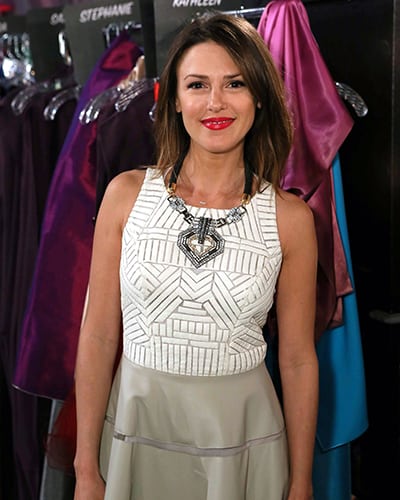 As the saying goes, all good things must come to an end. And so it goes for Elizabeth Hendrickson's time as "The Young and the Restless'" Chloe Mitchell. The actress recently announced that she'll be wrapping up her six-year stint as the character and will be saying goodbye to daytime — at least for the time being. But before she takes off, she sat down with Soap Opera Network to spill the beans on why she decided to walk away from "Y&R," what's in store for her future, and what fans can expect from Chloe's final days on the canvas. Read on to get the full scoop!
Leaving "The Young and the Restless" definitely wasn't an easy decision for Hendrickson, who admits that she's been contemplating walking away for a long time. "I kind of had a timeline set in my head for quite some time, but each year is always different, and when it really comes down to doing it, it's a very, very hard decision — a very hard decision to make," she explains. "And this year, I've just completed 10 years in soaps [both on "Y&R" and as "All My Children's" Maggie Stone], and I had a great storyline, and I figured this was the time to go out with a bang."
Fortunately, it doesn't seem as if she'll be going out with a literal bang: Chloe will most likely end up leaving town to clear her head and get her life together. "To be honest, I really don't know exactly how I go; I haven't seen the final scripts yet," she says, adding that she'll be taping through the week of April 21. "But, as we all know, Chloe has definitely been struggling with the death of her daughter and having this empty void and finding ways to fill it. And she's been trying to rekindle her relationship with Kevin [Greg Rikaart], and she starts to go through some struggles in her friendship with Chelsea [Melissa Claire Egan] — someone who has supported her throughout the entire thing — so I'm sure that will all come to a head, and that's what she will mostly struggle with. And I think maybe she needs to get away from Genoa City to get a breather."
But that's not to say that the next few weeks will be all gloom for Hendrickson's alter ego. In fact, the actress says it'll be quite the opposite, starting with next week's fashion show that involves a crossover with "The Bold and the Beautiful's" Jacob Young (Rick Forrester; ex-JR Chandler, "All My Children") and Linsey Godfrey (Caroline Forrester).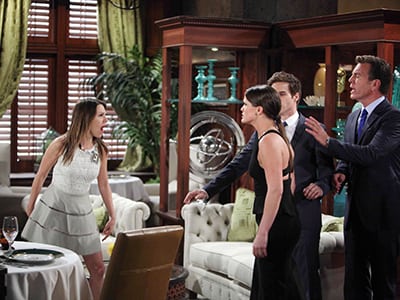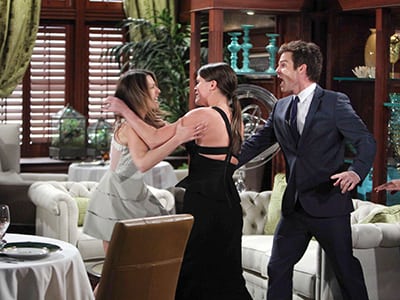 "I've been doing a lot of fun stuff, especially as of recently: You're going to see a lot of old Chloe come back!" she teases. "Chloe is trying to get what she wants in her old Chloe ways, which is not necessarily the most honest, most practical way of doing things. It's really fun. And it kind of makes it hard to be leaving at this time, because I'm just having so much fun with what I'm playing right now. It's very soapy. Very soapy. And it's really interesting, now having my last few weeks, going back to what everyone has been asking for  for a long time. Just to see the old spicy, feisty, confrontational, little vindictive Chloe coming back. So it's definitely a little bittersweet in my last few weeks."
Speaking of confrontational and feisty, Hendrickson reveals that there's a pretty epic catfight coming up between Chloe and Chelsea. "Things are getting physical, and not in a sexual way!" the actress teases. "We get physical, and we had such a good time doing it. And the great thing about Missy is that she was all in and ready to take one for the team. Everything [you're going to] see is real; we really went for it. I even had bruises at the end of the day! Granted, I do bruise really easily, but it's funny, because as the bruises were getting darker and bigger throughout the weekend, I kept on sending Missy pictures and was like, 'Look at what you did to me!' It was pretty funny."
And it's exactly moments like those that have Hendrickson feeling a bit sad about wrapping up her time at "Y&R." "The thing I'll miss most is my friends. I mean, I know that I'll be able to see them; it's not completely going away, and I know where to find them, but people are busy, and catching up with people is difficult," she explains. "We have a really good time with each other, and there are some people that I've known for a long time and have worked with a long time, and I'm going to miss them. And that goes for crew and hair and makeup and producers and wardrobe, all the people that I see on a regular basis. And I definitely think I'm going to miss this great life that I have, being able to do what I love to do, which is act and entertain people, and have an awesome regular life where I'm just working a few days, and I have off all my weekends. It's like having a 9 to 5 job, and that isn't the case when you are in the entertainment industry; it isn't usually like that. And I'm just so accustomed to that. It's just become such a part of my lifestyle. I'm used to operating in that way, so I think it's going to be a big adjustment."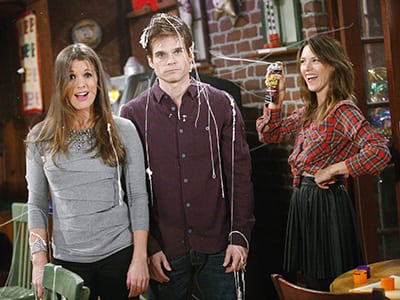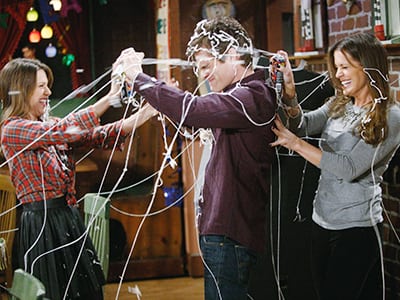 However, it will be a change that she welcomes with open arms. "There are all these positive things that are all of the reasons why I have been doing what I've been doing for the past 10 years, and I'm so thankful for it," she says. "But then I have to listen to that other part of myself that does have more dreams, and thankfully, I'm in that kind of place where it's just me right now and it's time for me to go and seek those out and see if those dreams are attainable. And the only way I can figure that out is to open myself up to all of these other opportunities, which unfortunately, are not as accessible because of our schedule. You know, they want us to succeed, they want us to be able to do other things, but I understand how it is difficult for them to give us those things, and I need to take care of myself, and I need to make sure that at the end of the day, I've given myself a real shot at what I want to do. And a large part of that is comedy. It's funny, because I've been doing heavy drama for 10 years, and a thing that really brings me joy is comedy, so yeah, I just really want to see if I can do it. And I believe that I can, so I would love to go out and try. It might take awhile, but I'm willing to take the risk."
And doing comedy, by the way, means that you won't be seeing Hendrickson gracing the screen of any soap operas in the near future. "I'm leaving the show not because I'm not happy; I'm leaving the show because I want to try something else," she states. "So I don't think it would be very fair if I left and then jumped right onto another soap. It's like breaking up with a boyfriend and saying, 'Listen, I really need to go be by myself right now,' and then being in a relationship a month later! So I would like to give myself some time and see how long I can actually be alone. It's a hard thing to do!"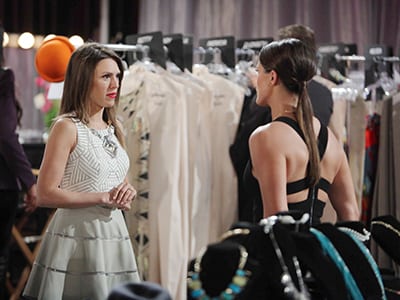 However, she doesn't want to make any super declarative statements. "Never say never!" she enthuses with a smile. "I'm trying to stay open to anything, but I would really love to stay in television. I'm kind of a TV girl, and a dream situation for me would be sitcoms. I started on stage, and the fact that I could rehearse for an entire week and then perform in front of a live audience on Friday, that's a dream for me. And I would love to do some plays, time permitting, obviously. I would love to be back on stage. That would be a great thing. And movies, of course. But the one thing I think with movies for me is, I've been used to working so quickly, I feel like I may go out of my mind if it takes seven hours for us to shoot a quarter of a page! I mean, I shot five scenes in 25 minutes last week. The pace at which I've been working, especially the last few years, [has made me] a little impatient, and I don't really like sitting around the trailer and waiting. But then again, just to be working, collaborating and to be able to do what I love to do, which is acting, I would really be happy no matter what medium that is, whether it's on stage, whether it's on film or on television.
"I've been doing this for so long, that I really have to figure out what is going to work best for me  and what is going to make me happy," she continues. "I haven't been on a film set in a decade, which is a long time. So I think that's honestly what I'm most excited about, is that there are so many possibilities, and there's this freedom that I haven't had in such a long time. So I'm really excited to just see what happens."
For more from Hendrickson regarding her "Y&R" exit, future plans and Chloe's final days, stay tuned for Part 2 of the actress' Center Stage interview with Soap Opera Network!