Melody Thomas Scott's name has been making the rounds for a variety of things lately, but there's one story in particular that the portrayer of the "The Young and the Restless'" Nikki Newman wants to set straight: The April 7 edition Globe article that claims she called Susan Lucci (ex-Erica Kane, "All My Children") to trash talk the sudser's executive producer, Jill Farren Phelps!
Rumors have been circling that Phelps has been trying to woo Lucci (who currently stars on Lifetime's "Devious Maids") to Genoa City, and somehow, Scott got dragged into the gossip. Consequently, the actress posted a message on her Facebook page, taking the tabloid to task for what she claims are outright lies. "Is it possible for the Globe to print an entire article with not ONE shred of truth to it? Well, they've done it," she wrote. "In their April 7th edition, there is an entire page devoted to absolute lies. It refers to a phone call that I had with Susan Lucci, whom I don't even know. Sure, over the years we have run into each other at events, 'Hello, how are you,' and that's it. She does not have my phone number, nor I hers. Hey, Globe… There was no phone call!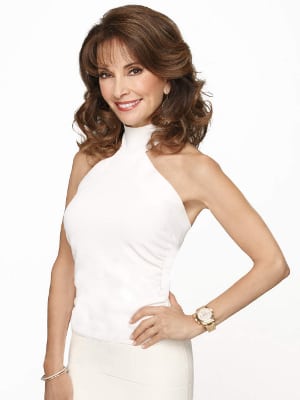 "According to the Globe, I told her that Y&R isn't a great place to work these days because of the havoc that Jill Farren Phelps has created under her rule. That we are walking on eggshells! In reality, our set has never been as relaxed and copacetic, with a very warm vibe, due to some recent changes made," she continues. "In my 35 years in Genoa City, there has been only one regime that made us walk on eggshells, and it wasn't under Jill. Sure, we were warned of the 'Wicked Witch' that was blowing our way, but she has been nothing but a great leader, gracious, professional, approachable and a pleasure to work with. They also intimated that I was upset that my husband, [Ed Scott], (who, btw, has a multi-year contract at 'The Bold and the Beautiful') didn't get Jill's position of EP! Utterly ridiculous! Edward is extremely happy at B&B and would never think of switching shows. I'm sure CBS legal would have a few things to say about that, too! And [EP/headwriter] Brad Bell, as well! Don't get me wrong: If Susan were to come to YR, I would welcome her with open arms, just as I would any actor coming to Genoa City. It boggles my mind that a rag could print nothing but falsehoods. Usually, there is a small grain of truth, but not this time! Don't believe everything you read, kids!"
Meanwhile, as for whether or not Lucci is even seriously being considered as a "Y&R" castmember remains unclear. At present, the actress is starring in "Devious Maids," which begins its second season on Sunday, April 20 at 10PM ET on Lifetime.