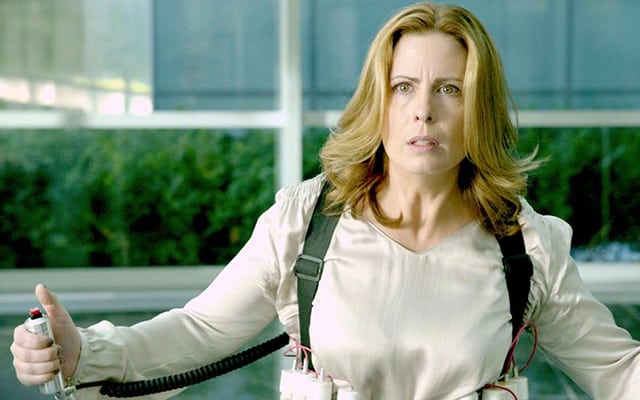 From being confused with "All My Children's" Susan Lucci (ex-Erica Kane) to herself jokingly confusing co-star Dermot Mulroney with Dylan McDermott, former "As The World Turns" actress Martha Byrne (ex-Lily Snyder) took part in a Funny or Die spoof interview intended to promote her upcoming appearance on NBC's "Crisis," which tells the shocking fictional story of an ambushed Washington D.C. school bus carrying some of the nation's most important people's children. Byrne will play the recurring role of Marie Wirth, a mother of one of the kidnapped children, beginning with the Sunday, April 6 episode.
READ ALSO: UP2LATELY: Martha Byrne Dishes on Her 'Crisis' Role, Her Dream Daytime Gig and Why Soap Fans (aka YOU) Are the Best Ever!
Some of the zingers fans can expect from the interview include (Byrne's answers in bold):
Wow…Susan Lucci, I love your work. It's a honor to finally meet you! What is it like being an All My Children icon?

Have you ever heard of Google? You should try it. 

A lot of soap opera actresses such as Kelly Ripa seem to play dumb blondes. How do I fulfill this requirement when my hair is naturally red brown? All I have is the naturally dumb part down. What do I do to get on a soap?

Do you know someone in a high position at a network? You should sleep with them.

Your co-star is Dermot Mulroney. How many times a week do you privately reenact the My Best Friend's Wedding karaoke scene?

Oh, I thought I was working with Dylan McDermott. Shoot. That explains why Mr. Mulroney threw me out of his trailer when I told him I was a huge fan of "The Practice." Oops.

What crazy method acting went into getting into the Washington DC spirit?

Monica Lewinsky was flown in to Chicago, just to remind us where we were. It was helpful. 
For more from the interview, visit funnyordie.com.
"Crisis" airs Sundays at 10:00 PM ET/PT on NBC.