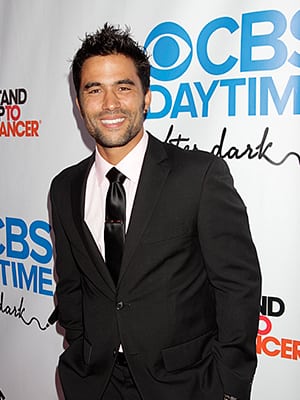 "The Young and the Restless'" Ignacio Serricchio (Alex Chavez) has most recently been seen on Fox's hit series, "Bones," but that's not the only place fans can catch the actor: He'll be performing at Hark in the Park-ing Lot, a Children's Hospital Los Angeles charity event, this weekend!
Serricchio and his new band, Los Zorros, will be taking an outdoor stage at The Secret Rose Theater on Sunday, April 13, to perform a variety of tunes and raise awareness about HARK (Healing Arts Reaching Kids), which is a program at Children's Hospital Los Angeles that utilizes art and music in non-traditional ways to help sick children.
"What's great about this program is that we do workshops, we do poetry and music and dance and anything to get the kids' spirits up and hopefully begin the healing process for them," says the actor, who actually organized the entire event himself. "You read some of their poems, and it's really powerful. Some of these kids have lost their innocence and their childhood, and they've been through basically the worst thing they can go through at such an early age, but the other side of that is they have such a grasp on life and an understanding of how precious it is, so they're all smiles. And anything I can do to help the kids, I do."
In addition to live music, Sunday's event will also feature special surprise guests — we hear "Y&R's" Christian LeBlanc (Michael Baldwin) and actress Jessy Schram may be two of them — painting, a DJ and more.
"I thought it could be cool, a daytime thing where people could bring their kids," Serricchio says. "We're going to have painting stations, and there's going to be food and a stage where we're going to play live, and the whole point is for parents to bring their kids so they get an idea of what we're trying to do, and the kids themselves will be able to do some art and play instruments and they get an idea of what the program is about."
For more information, check out the event's official page, or visit www.healingartsreachingkids.org.