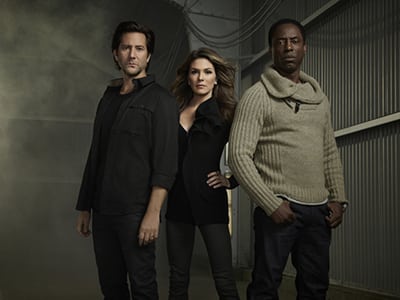 Former "Guiding Light" and "All My Children" alum Paige Turco (ex-Dinah Marler, "GL"; ex-Lanie Cortlandt Rampal, "AMC") may have not one, but two big hits on her hands!
In addition to recently being cast on the upcoming "NCIS" spin-off, Turco also stars on the post-apocalyptic drama "The 100", which just debuted on the CW last night. And according to the network, it was a huge success! 'The 100' drew 2.7 million viewers, making it not only the CW's most-watched season premiere of the season, but also their most watched mid-season premiere in four years!
The show is set 97 years after a devastating nuclear war wipes out all of Earth's inhabitants. The only survivors are those who managed to get into a space station orbiting the Earth during the war. The spaceship decides to send 100 juvenile delinquents back to Earth in hopes of re-populating the planet. It stars Eliza Taylor, who is well-known in Australia as one of the former stars of soap opera "Neighbours." It also features Henry Ian Cusick ("Lost"), Kelly Hu ("Sunset Beach"), Isaiah Washington ("Grey's Anatomy"), and Turco as a councilwoman aboard the space station.
In addition to being the most-watched CW mid-season premiere in four years, it was also the CW's most-watched show in that time slot in over three years. It's not known yet how Turco's "NCIS: New Orleans" role will affect her role on "The 100," if at all.
"The 100" airs Wednesdays at 9 PM ET on the CW network.