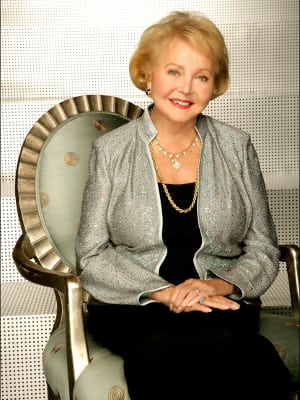 The Guild of Big Brothers Big Sisters of Greater Los Angeles (BBBSLA) will soon be presenting its annual Accessories for Success Spring Luncheon and Fashion Show, and Lee Phillip Bell — co-creator of "The Bold and the Beautiful" and "The Young and the Restless" and wife of the late William J. Bell — is one of this year's honorees!
The fashion show, which takes place on Friday, April 11 at The Beverly Hills Hotel in Los Angeles and will be helping to fund the BBBSLA, will feature designs from Kyle by Alene Too and will honor Bell, Sandra Stern (COO of Lionsgate Television) and Brindell Roberts Gottlieb (a community arts activist and humanitarian). Emmy winning actress Heather Tom (Katie Logan, "B&B") will emcee the event, and Doug Davidson (Paul Williams, "Y&R") and John McCook (Eric Forrester, "B&B") will be presenting Lee with this year's Innovative Award, which she is receiving due to her efforts in bringing important social plights to the forefront of her television programming over the years.
"All of our honorees have demonstrated a long-standing commitment as role models for civic involvement and at-risk youth and we are honored to celebrate their generosity and myriad contributions to our community," says Tiffany Siart, President and Chief Executive Officer of BBBSLA.  "They support our vision to provide mentoring relationships to all children who need and want them, contributing to brighter futures, better schools and stronger communities for all."
Adds Mary Willard, President of the Guild of BBBSLA:  ""It gives me great pleasure to be among those honoring these remarkable women. They are important members of our BBBSLA family and we are extremely grateful for their dedication to improving the lives of our children and helping them to achieve their full potential."
For more information on the event and to purchase tickets, click here.