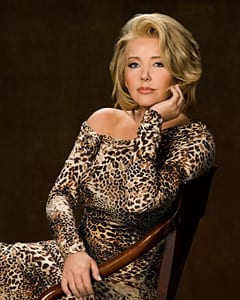 Melody Thomas Scott may be celebrating her 35th anniversary as "The Young and the Restless'" Nikki Newman, but that doesn't mean her Genoa City alter ego is the only acting challenge on her plate: She's booked a guest starring role on CBS's "The Crazy Ones!" And guess what? The Los Angeles native will be playing a boozy librarian — which won't be a far stretch, considering Nikki is a recovering alcoholic!
"It came completely out of the blue," she tells TV Guide of the gig, which will be alongside series regulars Robin Williams and Sarah Michelle Gellar (ex-Kendall, "All My Children"). "I was originally called in for another role on the show and was told by producers that I was too young, which was fabulous! But they thought that Robin and I would play off each other well, so they created a role for me in a different episode. It's a great character and not at all glamorous like Nikki. This poor girl is really trying to sexy but she's just not cutting it — and she has no qualms about pulling out her flask during library hours."
Apparently, the powers that be at "The Crazy Ones" were inspired by Scott's episode of "My Name Is Earl," where she — amazingly enough — played yet another boozy babe. "That was another role where I'm all drinky-drinky," she says with a laugh. "I guess it's never too late to by typecast!"
For more on the story, click here. And look forward to seeing Scott — who celebrates her 35th anniversary with "Y&R" on Thursday, February 27 — to make her "The Crazy Ones" debut this April.