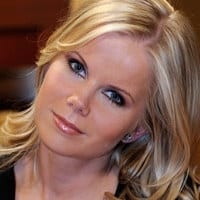 As we previously reported, soap actress Crystal Hunt (Stacy Morasco, "One Life to Live;" Lizzie Spaulding, "Guiding Light") was arrested back in December for allegedly smashing a glass into another woman's face. And she's now officially been charged with the crime, meaning she could face up to four years in prison!
According to TMZ, the L.A. County D.A. filed the charge, claiming that the bar glass is a weapon — and not just any weapon, but a deadly weapon.
Hunt claims the woman she reportedly attacked had been harassing her and she merely acted in self-defense. But if the courts disagree and convict the actress, she could spend up to four years in prison for the brawl. Yikes!