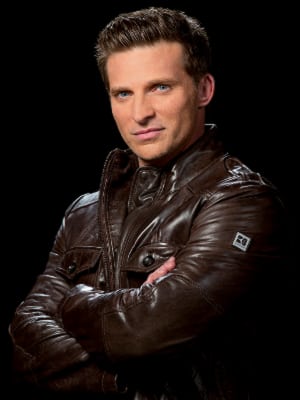 All it took was a simple tweet that said, "Can't wait for the games today..btw I'm having another kid..have a great day. God bless," and soap fans everywhere learned that "The Young and the Restless'" Steve Burton (Dylan McAvoy) and wife Sheree Gustin were expecting their third child.
While the sex of the baby is unknown at this time to the expectant parents, Burton shared that their newest bundle of joy is due in mid July and that it came as a surprise to them both when they got the news. The two are the proud parents of daughter Makena Grace, 10, and son Jack Marshall, 7. Burton noted he is "so ready," when asked by a fan if he was ready for fatherhood again.
Just yesterday Burton tweeted an image of he and his wife celebrating their 15th wedding anniversary alongside former "General Hospital" co-stars Jonathan Jackson (ex-Lucky Spencer) and Lisa Vultaggio (ex-Hannah Scott), who turns 41 on Monday, January 20.
Congratulations to the Burtons on their new baby and wedding anniversary, and Vultaggio on her birthday!