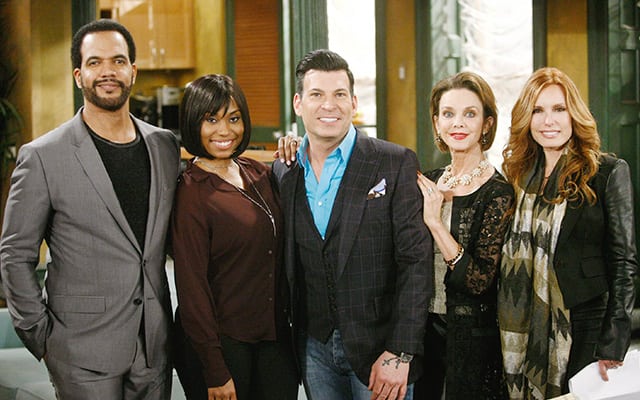 As we previously reported, celebrity wedding and event planner David Tutera is headed to "The Young and the Restless," where he'll help Neil (Kristoff St. John) and Leslie (Angell Conwell) plan their upcoming wedding. And guess what? Soap Opera Network managed to snag an interview with the busy "My Fair Wedding" star to get the scoop on his visit to Genoa City!
With previous clients like Jennifer Lopez, Matthew McConaughey, Elton John and Susan Lucci (ex-Erica Kane, "All My Children"), Tutera certainly knows a thing or two about throwing jaw-dropping, impressive parties. But acting? Not so much! "They called on me obviously to play the role as myself, and I'm not an actor, so I was wondering, 'How can I do this?'" he says with a laugh. "But… it was incredibly fun. It's unlike anything I've ever done before."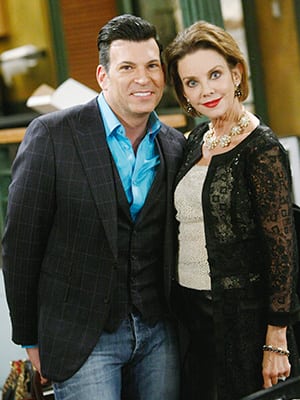 Funny enough, it wasn't exactly the first time the planner has been on the set of a daytime sudser. In high school, he worked as an extra on "One Life to Live!" "I just found the whole thing kind of funny, because I didn't know what I was doing then, and I certainly didn't know what I was doing while shooting ["Y&R"]," he says of the experience. "But at least I got a chance to be on camera more this time!"
When Tutera appears onscreen on Wednesday, January 22, the scenes will show him doing what he does best: getting to know the expectations of the bride and groom and helping them plan an event no one will soon forget! But he also shares scenes with Judith Chapman (Gloria Abbott) and Tracey Bregman (Lauren Fenmore).
"Tracey is a complete delight," he says. "From when I met her in the makeup room to running lines with her, I thought Tracey was kind and very connected and helpful." And Judith? "She's wonderful! She was the one who really wanted to go over the lines the most out of anyone," he says, adding that basically everybody involved made his experience fantastic. "Honestly, when you're asked to do something you've never done and you go do it, they couldn't have been kinder or more helpful," he says. "It was really fun and enjoyable." But that doesn't mean it was easy! "Here's an example of my experience on 'The Young and the Restless:' It was like me watching someone playing me in an SNL skit," he explains. "I was never quite sure if the cameras were rolling, if they were actually reading lines, if they were blocking the scenes for the sake of blocking scenes, and I was never sure who was in character and who wasn't. It was hysterical. And what's also interesting is that, and again, I don't do this for a living, when you're put into the situation for the first time and the director is calling from the booth over the PA system, they call the characters by their real actor names. So when they kept calling 'Judith,' and the character is Gloria, I was getting very confused. At one point, there were six of us in the scene at one time, and I didn't know who was talking to who or who was being called to do what, because David is being called to play David, Judith is being called to play Gloria, and everybody is playing someone else, so I was completely lost in the whole process!" Fortunately, the cast and crew let him know he did well, despite the confusion. "The director who was doing the scenes that day came over and thanked me and was very, very happy," he recalls. "One of the cameramen came over to me and he said, 'I have to tell you that we sometimes cringe when we know we're having celebrities come on to play the roles of themselves, but it was a delight to have you and you were very believable.' And I was thinking, 'That was a lovely compliment, but how would I not be believable? I was simply being me!"
Look for Tutera to air on Wednesday, January 22 and again on Thursday, February 6.