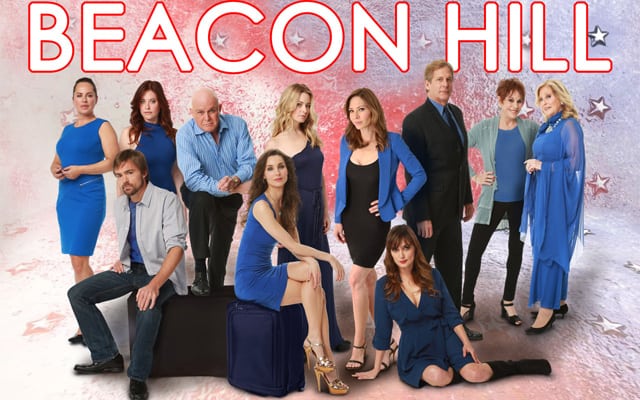 We've been hearing a lot about the talented cast that Open Book Productions and Bella Productions have assembled for "Beacon Hill" (see above), but this week we finally learned how viewers will be able to watch the show when it premieres Wednesday, March 5!
According to an official "Beacon Hill" press release, the show will be available to stream on BeaconHillTheSeries.com via a subscription-based service. For $9.99, viewers will have access to all 12 episodes from the upcoming first season.
"The choices were to offer sponsorships and run advertising or to go with the subscription route," explains the production companies. "They [Linda and Jessica Hill of Bella Productions] decided to go with an advertising-free subscription plan for at least the first year at $9.99 for 12 episodes."
But that doesn't mean a potential Season 2 couldn't see a different model being used. "The hope is to establish the show and attract sponsorship going forward. We're in this for the long haul and want to continue to produce Beacon Hill and other quality shows."
"Beacon Hill" stars Alicia Minshew (ex-Kendall Hart Slater, "All My Children") as reporter Sara Preston and Sarah Brown (ex-Claudia Zacchara, "General Hospital") as State Representative Katherine Wesley, former lovers who are reconnected when Sara returns to her hometown after her grandfather's heart attack. But that doesn't come without its drama: Preston and Wesley are from two different rival families at opposite ends of the political spectrum. The series also stars Ron Raines (ex-Alan Spaulding, "Guiding Light"), Melissa Archer (ex-Natalie Buchanan, "One Life to Live"), John-Paul Lavoisier (ex-Rex Balsom, "One Life to Live"), and Crystal Chappell (ex-Olivia Spencer, "Guiding Light") among other fan favorites. Chappell also serves as executive producer, alongside co-executive producer Ricky Paull Goldin (ex-Jake Martin, "All My Children") and supervising producer Hillary B. Smith (ex-Nora Buchanan, "One Life to Live").
The show was written by Linda and Jessica Hill, of Bella Productions and sister company Bella Books, a publishing company specializing in fiction for and about lesbians. "When we sat down to write Beacon Hill, we ended up writing the story that we wanted to see on television. As book publishers, what interests us the most is the story. We have tremendous respect for great storytelling, character development and building richly layered narratives," the Hills explained in the press release. "That's what we've tried to do with Beacon Hill. We're thrilled that it has allowed us the opportunity to express all of that in a different medium."
For more information, please visit www.BeaconHillTheSeries.com.