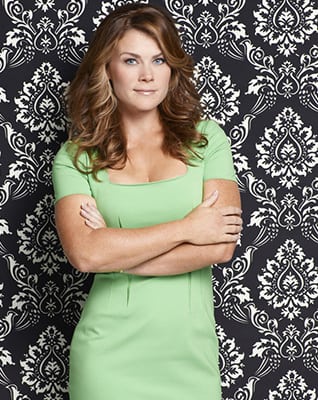 "Days of our Lives" star Alison Sweeney will announce on the Tuesday, January 21 edition of "The Ellen Show" that she will be departing the NBC Daytime drama series after portraying the role of Samantha "Sami" Brady for 21 consecutive years. Sweeney's contract is set to expire in December 2014, according to published reports.
"I decided that it's going to be my last year with the show," said an emotional Sweeney to host Ellen DeGeneres on her future at "DAYS." Sweeney added, "I've been on 'Days of our Lives' since I was 16 years old and I have never had more than a two-week vacation in that whole time. I mean, it's so awesome. I love Sami, I love Salem, I love my job. I love daytime, I love the fans, I love everything about it."
Talking about why she's decided to leave, Sweeney says, "I just have worked so much and my daughter just turned five and my son is nine, and I just want to be with them and enjoy my last year!" She continues, "I'm going to be on 'DAYS' all this year."
When asked when we can expect to see her last air, she states, "We don't have a specific time yet, but I'm going to be on all this year and we'll see what happens." With Sweeney's departure, fans will be most interested in learning how her character will depart Salem, but Sweeney doesn't know yet. "I don't know! It would be awesome to have some sort of happy ending, but then I also think maybe Sami deserves some sort of twisted, like 'Breaking Bad' ending. I don't know," she says with a laugh.
Based on "DAYS'" filming schedule, Sweeney is expected to continue airing on the series well into next year.
Note: The soap is awaiting word on whether it will continue airing beyond September 2014 as NBC is currently only contractually committed to the series via its deal with Sony Pictures Television and Corday Productions through that time.
To watch the full "Ellen" interview, click play below.