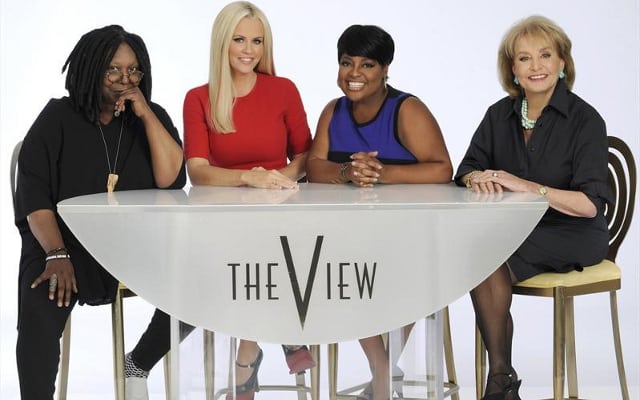 via Press Release
ABC'S "THE VIEW" WELCOMES THE CAST OF "DOWNTON ABBEY," LIVE DECEMBER 10

ABC's Annual "Home for the Holidays" Campaign Celebrates Two Talented U.S. Veterans, Dec. 13

Backstreet Boys Perform Live, Dec. 12

Clinton Kelly, Trista Sutter and Hilaria Baldwin Guest Co-Host

"The View," a live, one-hour daily talk show from ABC, features hosts Barbara Walters, Whoopi Goldberg, Sherri Shepherd and Jenny McCarthy. It's the original forum in which real women discuss everyday issues, share their opinions and engage in colorful conversations. "The View," broadcast in HDTV and produced in 2-channel stereo sound, is now available to watch online daily at 4:00 p.m., ET/1:00 p.m., PT on ABC.com. "The View" is produced by ABC and Ms. Walters' Barwall Productions, with Ms. Walters serving as executive producer along with Bill Geddie, who also serves as executive producer for "The Barbara Walters Specials." "The View" is directed by Mark Gentile. For breaking news and updated videos follow "The View" (@theviewtv) and hosts Barbara Walters (@BarbaraJWalters), Whoopi Goldberg (@WhoopiGoldberg), Sherri Shepherd (@SherriEShepherd) and Jenny McCarthy (@JennyMcCarthy) on Twitter.™

It's the most wonderful time of the year and "The View" wants to see Santa's merriest moments spreading the holiday cheer. Viewers are encouraged to Tweet or Instagram photos with #TheView or submit to [email protected] for the chance they'll be featured on the show, Dec. 9-13.

"The View" wants to hear from you. Tweet #theview during the live broadcast and selected viewer tweets will appear on screen during the show.

Scheduled guests for the week of DECEMBER 9-13 are as follows (subject to change):

MONDAY, DEC. 9 – Guest co-host Clinton Kelly (ABC's "The Chew"); Garth Brooks ("Blame It All On My Roots"); Nicole "Snooki" Polizzi and Jenni "JWOWW" Farley ("Snooki & JWOWW") joined by their fiancés; a holiday performance from Johnny Mathis.

TUESDAY, DEC. 10 – Cast members from the acclaimed MASTERPIECE Classic series "Downton Abbey" including Hugh Bonneville, Laura Carmichael, Michelle Dockery, Rob James-Collier, Allen Leech, Lesley Nicol and Phyllis Logan; musical guest R. Kelly.

WEDNESDAY, DEC. 11 – The original Bachelorette and greatest success story in ABC's "The Bachelor"/"The Bachelorette" franchise, Trisha Sutter guest co-hosts; Julianne Moore; Giada De Laurentiis (author, Feel Good Food); "Sherri's Comedy Club" welcomes Rosemary Watson.

THURSDAY, DEC. 12 –Hilaria Baldwin, wife of actor Alec Baldwin, guest co-hosts and teaches Sherri and Jenny yoga; Ralph Fiennes ("The Invisible Woman"); Backstreet Boys perform.

FRIDAY, DEC. 13 – Tyra Banks ("America's Next Top Model"); "Kiss and Tell with Jenny" with Timothy Goodman and Jessica Walsh and their 40 day dating experiment; holiday gift ideas; ABC's annual "Home for the Holidays" campaign celebrates two talented U.S. Veterans with aspirations to work in the entertainment industry.