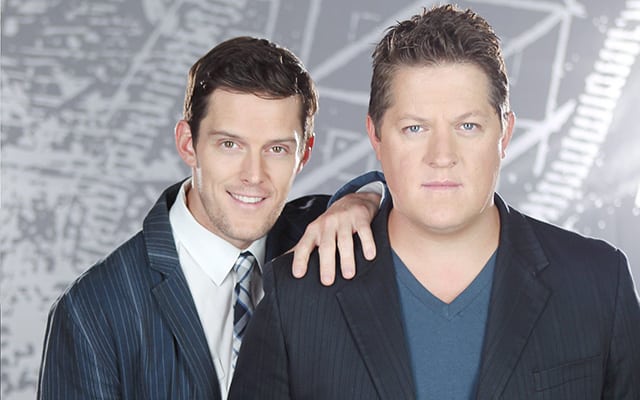 "General Hospital's" Drew Cheetwood (Milo Giambetti) and Derk Cheetwood (Max Giambetti) might jokingly want fans to view them as super ninjas ready to dropkick anyone and anything at the drop of a hat, but when Soap Opera Network "mob"nobbed with the brothers for a feature interview, they proved that they're much cooler than dropkicking ninjas — and then some!
One really awesome thing about the Cheetwood brothers is that they truly value their fans, which was evident during this summer's "GH" fan event. "The fans are so committed and loyal," Drew told us of why he and his brother like to treat each and every viewer like family. "It's amazing, and I'm just so thankful."
"It's always pretty honestly shocking," adds Derk. "I've been on the show for 12 years, and it's always shocking that people are so loyal to a show."
And, judging from the passionate crowd that gathered to see the Cheetwoods in action, the fans are loyal to them, as well! Meaning the next thing the brothers told us is definitely good news: They believe they'll be utilized much more this season!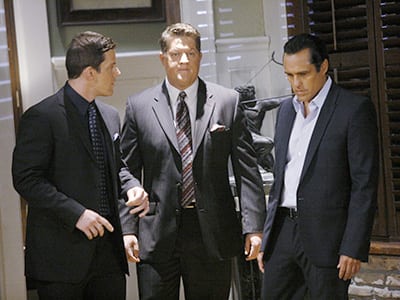 "Generally, they write for the kids during the summer, even though they've got some other stuff going on, but generally in the fall and winter is when we pick up," Derk teases. "And I can say that there's probably going to be [even more] pickup in some mob stuff that's going to be going down."
Now, before some of you think "uh oh" regarding the possible strong return of the mob, Derk urges you to have an open mind. "They try to play everything on the canvas," he explains. "There's been such a lack of [the mob] for a while now that maybe, even though people thought they were tired of it, they might be excited to see what it is the show is doing again."
However, Milo may or may not be a part of those mob scenes, considering his new role as Magic Milo in town! A role that, as Drew explains, was rather intimidating at first. "I didn't know how it was all going to go down," he says. "I was making out with Connie (Kelly Sullivan) in the back, there was whipped cream and she was kissing on me. I mean, there was a lot of stuff that I had never done before, obviously, and that's why I think it works, because it was Milo, who doesn't have that bone in his body, so everything was shock and awe. So yeah, I realized that I had to go in big and just do it and own it. And I enjoyed it."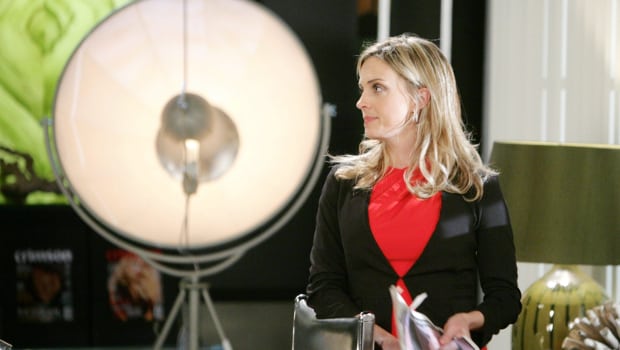 Speaking of Connie, both brothers were sad to see her alter ego leave the canvas this past summer. "She's so great," Drew enthuses. "It's a big loss for the show. We always had fun working together. She's super talented, and she's a very honest actor and person in general. She's a shark. I'll miss her on the show. I'm sure she'll be successful."
Adds Derk: "It's a soap, so she could be back in four months, you know what I mean? And that's what we always hold out for, especially with great people. It's a show that has turnover, and it's just the world and how the stories are told. It's sad to see her go, because she's so good. She's a great actress. She'll be missed, but hopefully she can get worked back into the canvas at some point."
Either way, the brothers are certain that the upcoming action in Port Charles will be can't-miss-TV — especially if the powers that be continue to put Max and Milo in the whacky situations they've been in as of late. "The one thing I've always appreciated about 'General Hospital' is that the things that we do are not always the same, for us especially; we don't have to be so true to our storyline, because our storyline is whatever they make it," Derk explains. "And that's the fun thing, the unknown of what they're coming at us with. They love putting us in ridiculous, uncomfortable positions, and we love playing those, because that's the fun stuff. When you read [the scripts], and you're like, 'Oh, this is going to be good or fun,' that's what I look forward to. And I love the brother stuff. So it'll be interesting to see what they've got, but I guarantee it will be entertaining."