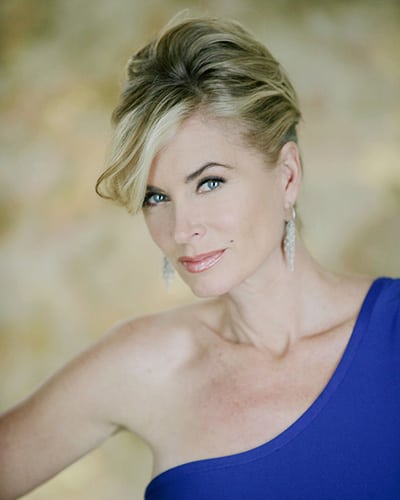 As we previously reported, Eileen Davidson is making a return to "The Young and the Restless" as Ashley Abbott, but don't expect the sunshine and lollipops that surrounded her last return to Genoa City (for Victor's wedding); the tragic death of Chloe (Elizabeth Hendrickson) and Billy's (Billy Miller) daughter, Delia, is what brings the makeup maven back for three episodes.
"It was pretty depressing," she reveals about the overall mood on set and the emotional funeral scenes in which she'll be taking part beginning Monday, October 28. "Especially when you're dealing with the death of a child. It's a horrible thing to play. I remember I had to play it when I just had my baby (Faith), and they didn't even tell me, because they didn't want to freak me out. Really hard to do."
Of course, having had to face similar tragedy makes it all the easier for Ashley to relate to Chloe and Billy's heart wrenching situation. "Ashley has had a lot of loss in her life, and she loves Billy so much… so I think she really emphasizes with what he's going through," the actress says. "And she is really traumatized by the whole thing herself."
Though difficult to film, Davidson says the funeral scenes are beautiful and not to be missed for fans. "They were terrific," she enthuses. "They were really emotional, and I though they went really, really well."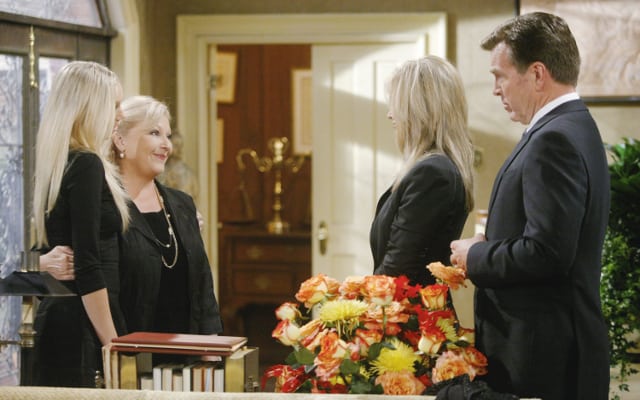 Despite the dismal circumstances, the California native enjoyed reuniting with her former castmates, as well as meeting some new faces. "It was fun to see everybody, and it was really great to meet Melissa [Ordway, Abby Newman] for the first time," she shares. "She was amazing, and we hit it off right away."
Though fans have been holding out hope that Davidson will return to Genoa City full time, the actress notes that this time, it really is only for a short stint. "I'm not retiring," she reiterates, explaining that she is just temporarily accepting only short-term gigs in order to spend more time with her 10-year-old son, Jesse. "He's going to sixth grade next year, which is middle school. And fifth grade is really important, so I just really kind of wanted to be there all the time and find out what was going on with my kid and how he's dealing with stuff and how he's doing with getting older.
"He's actually doing better with homework and everything [since I've been home more], so it does matter," she continues. "Once he gets his footing, and I know where he's at, I'll hopefully get more work."
As for whether or not she'd be open to more short-term "Y&R" appearances, she says it depends on the circumstances. "I would be open to doing any show… It's really about schedule," she says. "I have such a wonderful history with 'The Young and the Restless.' I don't have any weird feelings or bad feelings, so they don't really have to do much to win me back to come back for a couple of days. I'm happy to do it, and it's fun for me. I don't really want to be working any place right now full time, so this is actually kind of perfect, to be able to come back and see people. [And it's] an amazing experience: Nobody gets bored with me, nobody is tired of seeing me. It's like, 'Oh yay, she's back!'"