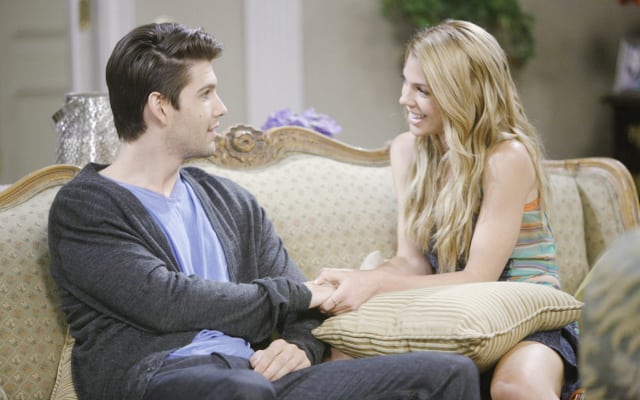 Today marked the end of a four-year chapter for "Days of our Lives" fan favorite Casey Deidrick (Chad DiMera), who entered Salem as Will's (Chandler Massey's) hated rival back in 2009 and is now exiting the canvas as the much-loved and integral character, son of Stefano (Joseph Mascolo). In honor of the occasion, Soap Opera Network spoke with Deidrick's former onscreen love, Kate Mansi (Abigail), who tearfully recalls taping her final scene with Deidrick and opens up about how she truly feels about the star's exit!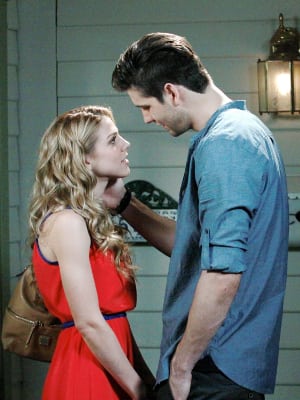 "That was one of the hardest scenes that I've ever had to do," Mansi declares of Deidrick's final onscreen moments, trying hard to hold back a bevy of tears. "It was one of the most difficult scenes I've ever gone through, because Casey is still my best friend, and it's just so strange. I started on this show with him, day in and day out for so long, and it's been difficult to see him go."
That being said, the actress is extremely impressed with her former co-star's decision to walk away from the role that made him one of the most popular and loved young actors in daytime. "I think it's so great when people take risks without really knowing where it's going to lead," she says. "That's sort of the magic in your life, because that's part of being an artist. Everything that's uncertain, the universe can fill it with something wonderful, but if you're too busy, then you don't have any room to have new experiences or maybe have kind of bad ones that will teach you something wonderful. So for him and his growth as an individual and as an actor, I'm so happy for him. But for me and for the show, I'm so incredibly bummed!
"I feel like we grew up together," she continues. "I was watching some of our first episodes when we started on the show together, and it just feels like a family. It feels like high school or college. He and I have been together on the show for three years, but I tested with him two years prior to that, so Casey and I go way back, and Chad and Abigail go way back. So I feel really lucky to have had our characters' story, and I feel lucky to have had him as a friend during my time here."
At press time, a show rep had no information regarding whether or not "DAYS" plans on recasting the role of Chad.