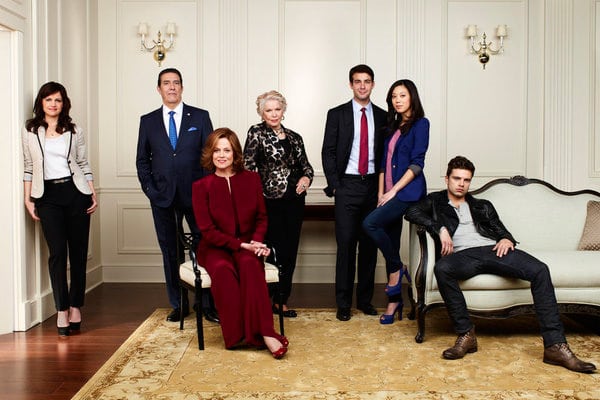 USA Network miniseries "Political Animals," which sadly did not move on to become a regularly scheduled primetime series as hoped, has instead become a cult classic and is now a multi-Primetime Emmy award nominee!
The political dramatic soap that followed Sigourney Weaver as Elaine Barrish, the former First Lady and Governor of Illinois, and current Secretary of State, who by the conclusion of the mini is once again seeking to become the first female President of the United States, was nominated in the category of Outstanding Miniseries or Movie. Weaver was nominated in the category of Outstanding Lead Actress in a Miniseries or Movie, while co-star and onscreen mother, Ellen Burstyn (Margaret Barrish Worthington), was nominated in the Outstanding Supporting Actress in a Miniseries or Movie category.
"USA is truly honored to see the tremendous accomplishments of Greg [Berlanti], Laurence [Mark], Sigourney, Ellen and the entire cast and crew from 'Political Animals' recognized by the Academy of Television Arts and Sciences," said USA Network Co-Presidents Jeff Wachtel and Chris McCumber. "This is a miniseries of which we are particularly proud — with exceptional writing, superb creative execution and stellar performances."
In addition to noms for the miniseries, Weaver and Burstyn, "Animals" was also nominated for Outstanding Casting For A Miniseries, Movie Or A Special and Outstanding Hairstyling For A Miniseries Or A Movie.
The miniseries also starred Carla Gugino, James Wolk, Sebastian Stan, Brittany Ishibashi and Ciarán Hinds and is from Berlanti Productions and Laurence Mark Productions in association with Warner Horizon Television. Berlanti wrote and directed the pilot and served as executive producer of the series with Mark and Sarah Caplan. Melissa Kellner Berman of Berlanti Productions co-executive produced.