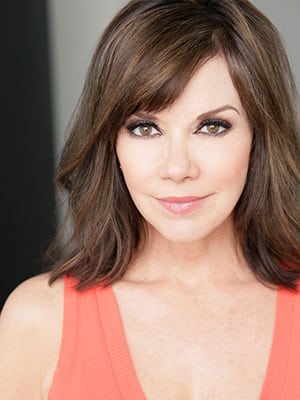 "Tainted Dreams," the new web series from the creative mind of "All My Children" supervising producer Sonia Blangiardo, which looks to provide a rare, realistic view behind the scenes of producing a daily scripted drama (show within a show – "Painted Dreams"), has added Bobbie Eakes ("All My Children," "The Bold and the Beautiful") to its cast. Eakes joins the recently signed  Ilene Kristen ("One Life to Live," "Ryan's Hope"), James DePaiva ( "OLTL") and Tonja Walker ("OLTL") to round out an all star cast of soap stars.
According to Blangiardo, "Eakes is playing Courtney Parish, a television network's Vice President of Daytime programming. She's strong, powerful and well-respected until one split-second decision changes everything." The actress is scheduled to begin filming later this evening, which Blangiardo teases will include on location scenes alongside on screen husband, Eddie, played by James DePaiva."
In addition to Eakes, DePaiva, Kristen and Walker, the "Tainted Dreams" cast includes Alicia Minshew ("AMC"), Terri Ivens ("AMC"), Grant Aleksander ("Guiding Light"), Kelley Menighan Hensley ("As the World Turns"), Walt Willey ("AMC"), Natalia Livingston ("GH"), Marnie Schulenburg ("ATWT"), Michael Lowry ("AMC," "One Life to Live"), Austin Peck ("ATWT," "Days of our Lives", "OLTL"), Colleen Zenk ("ATWT"), Larkin Malloy("The Edge of Knight," "All My Children") Dina Manzo ("Dina's Party" and "The Real Housewives of New Jersey"), Anthony Wilkinson ("My Big Gay Italian Wedding" and the new "My Big Gay Italian Funeral"), Lisa Marie Varon ("IMPACT WRESTLING") and "Mr. PEC-Tacular" Jessie Godderz ("IMPACT WRESTLING" and "Big Brother").
"Tainted Dreams" began filming in and around New York City on Monday, July 29. The series is expected to film for the next two weeks. For more information, visit tainteddreamstheseries.com.