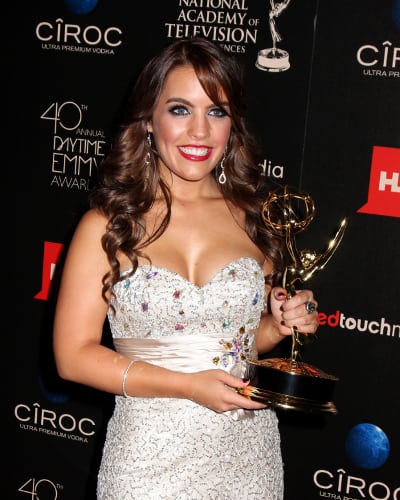 On Sunday, June 16, during "The 40th Annual Daytime Entertainment Emmy Awards," Kristen Alderson took home the Emmy Award for Outstanding Younger Actress in a Drama Series for her portrayal of Starr Manning on "General Hospital."
In 1998, Alderson joined the cast of "One Life to Live" as the feisty daughter of Todd Manning (Roger Howarth) and Blair Cramer (Kassie DePaiva). In 2012, the character nearly fell off a cliff along with Baby Hope and Cole shortly after entering Port Charles as a result of a disastrous situation  involving Anthony Zacchara (Bruce Weitz) and his son Johnny Zacchara (Brandon Barash). In 2013, Alderson ceased portraying Starr after talks between Prospect Park and ABC broke off (Prospect owns the license to the character). She re-joined "GH" in May of this year as Kiki Jerome, the daughter of Robert "Franco" Frank (Roger Howarth) and Ava Jerome (Maura West).
This is Alderson's first win and first nomination.