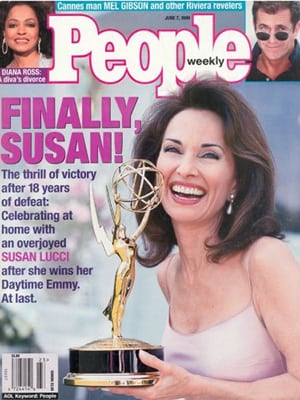 As previously reported, The Smithsonian's National Museum of American History and the National Academy of Television Arts & Sciences have partnered up to amass a collection of costumes, scripts, photographs, props, awards and other materials recognizable to daytime fans for a special Daytime Television exhibit. The museum held a special ceremony today, May 9, to not only celebrate the partnership, but to also officially launch a three-year artifact collecting initiative and to announce the first items to be lent for the exhibit!
"Since the advent of television in the 1940s, the medium has changed to meet the interests of viewers and their daily lives," says John Gray, director of the museum. "As we reflect on what it means to be American, we want to expand our collections to illustrate the influence of daytime television on American culture."
And of course, one of the first daytime legends the Smithsonian went to in order to expand their collection was the aptly-titled Queen of Soaps, Susan Lucci (ex-Erica Kane, "All My Children"), who lent out a couple of different items for the exhibit: the pink dress and sparkly Manolo Blahnik shoes she wore for the cover of the 1999 issue of People magazine celebrating her Daytime Emmy win, and an autographed "All My Children" script that contains handwritten notes.
"Jeopardy!" host Alex Trebek and "Barney" creators Kathy and Phil Parker were also at today's event and lent iconic items to the exhibit. Trebek handed over a 1984 "Jeopardy!" script with handwritten notes, a 17th Century Quotes category card, Final Jepoardy money reveal panels, and a buzzer used by contestants to "ring-in."
Meanwhile, the Parkers lent an original script from the first video to be released in the "Barney & The Backyard Gang" series, a plush toy Barney, a packaged VHS tape of "The Backyard Show," an original Barney coloring book, and a Barney Fan Club flyer.
All of these items and more will be available in late 2016, when the exhibit is scheduled to open. But fans can expect additional details about the exhibit to be shared during this year's Daytime Entertainment Emmy Awards. "We are excited about the prospect of working with the Smithsonian to tell the story of daytime television and its impact on popular culture in America," says the chairman of NATAS, Malachy G. Wienges. "The 40th anniversary of the Daytime Awards show this June 16 is an idea venue to showcase the partnership."