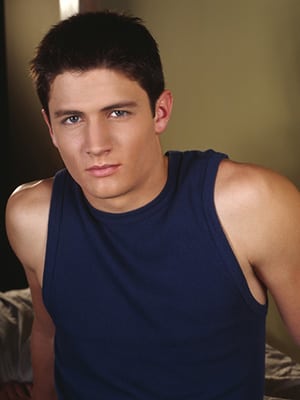 On Sunday, June 16, SOAPnet will present a four-episode father's day marathon of "One Tree Hill" dubbed "Buff Daddy." The marathon is scheduled to run from 10:00 AM – 2:00 PM ET/PT.
via Press Release
CELEBRATE FATHER'S DAY AS SOAPNET PRESENTS 

"BUFF DADDY: ONE TREE HILL FATHER'S DAY MARATHON" 

SUNDAY, JUNE 16TH 10AM-2PM

Celebrate Father's Day with SOAPnet and the "Buff Daddies" of "One Tree Hill." Relive some of the show's most redeeming moments of fatherhood with Nathan, Lucas and Jake in this special four-hour marathon, airing Sunday, June 16th (10:00AM – 2:00PM ET/PT). 

Episodes:

10AM – One Tree Hill Episode #2003-018 – "To Wish Impossible Things" – Jake, Nathan and Lucas are sold to the highest bidder for charity in the annual Tree Hill "Boy Toy" Auction. Jake's mysterious winning bid turns out to be Nicki, his former flame who abandoned both him and Jenny, their nine-month-old daughter. Nicki mistakenly thinks the two can reconnect, but Jake takes the opportunity to school her on the repercussions of her abandonment.

11AM – One Tree Hill Episode #2006-088 – "All of a Sudden I Miss Everyone" – Nathan and Haley leave their high school graduation ceremony when Haley goes into labor with their son Jamie. Karen's delivery does not go well, and a momentary loss of life lets her, Keith and their daughter share a moment in heaven. Two weeks later, Haley and Nathan are nervous to attend a party and be away from the baby for the first time. Dan turns himself in to the police for Keith's murder and is tormented by his sins in prison.

12PM – One Tree Hill Episode #2008-119 – "Things a Mama Don't Know" –  Peyton, spilling tears of joy, tells her fiancé Lucas that he's going to be her "baby daddy". Jamie is proud to hear that his father, Nathan, has been picked up as a point guard by the Charleston Chiefs basketball team. Lucas finds himself in the middle of a father-son feud in Hollywood, which gives him the opportunity to reflect on the type of father he wants to be. Brooke's motherly instinct helps her track down her runaway foster daughter, and brings an end to two violent crimes that have haunted Tree Hill.

1PM – One Tree Hill Episode #2008-120 – "A Hand To Take Hold of The Scene" – Lucas and Peyton have an exhausting trial run as parents when they babysit for the night.

SOAPnet owns the world of character-driven soapy drama. The network features same-day episodes of popular daytime dramas "Days of our Lives," "General Hospital" and "The Young and the Restless" as well as classic episodes of "All My Children" and "One Life to Live." Plus favorite primetime series "Gilmore Girls," "One Tree Hill," "Veronica Mars," "Brothers & Sisters" and "Beverly Hills 90210." Wrapped in a 24-hour environment, SOAPnet is the one destination for stories focused on real emotions and revealing truths about intriguing yet flawed characters.