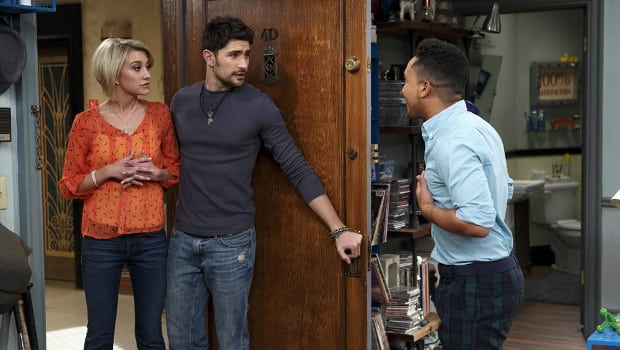 As if things weren't crazy enough on "Baby Daddy," an ABC Family sitcom about a guy who becomes a surprise dad when his ex-girlfriend leaves a baby on his doorstep, Matt Dallas ("Kyle XY") is dropping in again to up the ante!
Titled "New Bonnie vs. Old Ben," the 30-minute episode has Bonnie (Melissa Peterman, "Reba") setting up her new bachelorette pad across the hall from Ben (Jean-Luc Bilodeau, "Kyle XY") and Tucker (Tahj Mowry, "The Game"), which the guys most certainly do not appreciate. As they work wonders to try and force her out, Danny (Derek Theler, "90210") seeks out Riley (Chelsea Kane, "Dancing with the Stars") for breakup advice. That's where Dallas comes in, playing Riley's boyfriend, Fitch — a recurring role he began this season on the show.
But how will Fitch fit into the comedic equation this time around? Find out when the episode airs on Wednesday, June 19 at 8:30PM ET/PT on ABC Family.