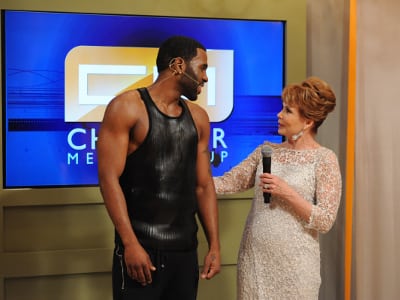 In a growing list of popular artists appearing on or performing in episodes of "All My Children" and "One Life to Live," including Hot Chelle Rae on today's "AMC," The OnLine Network has announced that multi-platinum recording artist Jason Derulo will perform on the soaps Wednesday, July 3 episode. The episode finds the artist appearing as himself singing his new single "The Other Side" after receiving an invite to perform as part of a gala event hosted by Brooke English (Julia Barr).
"I was thrilled to stop by Pine Valley to perform my new single for 'All My Children,' It's such an iconic show and it's cool to be a part of its revival online," said Derulo, who taped his appearance on Wednesday, May 8. "I have nothing but love and respect for the cast and series and had a blast on set."
Word of Derulo's appearing on "AMC" came to light the same day he appeared in the Stamford, CT studio of the soap after Cady McClain (Dixie Martin) tweeted a picture of herself with Derulo and her dog.
A singer-songwriter, actor and dancer, Derulo is one of the music industry's most talented performers. He began his career writing songs at the age of 16 for artists such as Diddy, Danity Kane, Sean Kingston, and Lil Wayne. In 2006, Derulo won the grand prize on the TV show "Showtime at the Apollo," and was discovered by music producer J.R. Rotem who signed him to his record label Beluga Heights Records and Warner Bros. Records. In 2009, the singer released his debut single "Whatcha Say," which hit #1 on Billboard's Hot 100 List in November of that year. His debut album, "Jason DeRülo," was release in March of 2010 and made DeRulo an international phenomena selling over 14 million tracks with almost 10 billion in cumulative radio audience and nearly 700 million views on his Youtube channel. The Album had a string of Top 10 singles including, "Watcha Say," "In My Head," "Ridin' Solo", "Don't Wanna Go Home" and "It Girl." His second album, "Future History," details his journey recording the album through a series of webisodes posted on his website. This fall, fans can check out his third album, featuring the hit single "The Other Side," which is scheduled to be released in September.