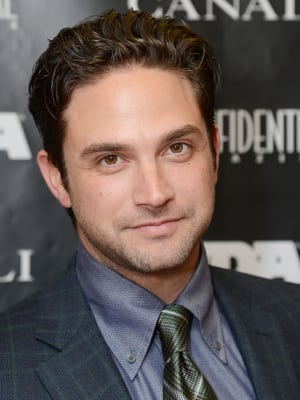 As previously reported, departing "General Hospital" star Brandon Barash (Johhny Zacchara) will appear in the Monday, April 15 episode of FOX's "Bones," entitled "The Party in the Pants." Now you can get your first look as Barash's character appears scared for his life…or is he?
In the episode, Barash portrays a good-looking yet aging exotic dancer named Storm (how appropriate), who previously helped the episode's victim get into stripping. In addition to a little skin from the sexy stud, the episode also features a guest appearance from Joanna Cassidy ("Body of Proof," "Six Feet Under"), who's revealed as Booth's (David Boreanaz) mom.
Full Episode Description: 
The Jeffersonian team investigates the murder of Jack Spindler, a successful employee at a brokerage firm by day, but a stripper by night. When the team learns how Spindler's moonlighting affected his personal life, they start to question the people closest to him, including his stripper friend, Storm (guest star Brandon Barash). Meanwhile, Booth's mother (guest star Joanna Cassidy) shows up after a 24-year absence in his life and makes a special request of him in the all-new "The Party in the Pants" episode of BONES airing Monday, April 15 (8:00-9:00 PM ET/PT) on FOX. (BON-818) (TV-14 D, L, S, V)

Cast: Emily Deschanel as Dr. Temperance Brennan; David Boreanaz as FBI Special Agent Seeley Booth; TJ Thyne as Dr. Jack Hodgins; Michaela Conlin as Angela Montenegro; Tamara Taylor as Dr. Camille "Cam" Saroyan; John Francis Daley as Dr. Lance Sweets.

Guest Cast: Michael Grant Terry as Wendell Bray; Joanna Cassidy as Marianne Booth; Brandon Barash as Storm; Jonathan Tucker as Seth Harrison; Jeremy Kent Jackson as Seth Harrison; Hayley Marie Norman as Kristy Mineta; James Harvey Ward as Jason Wyler; Lise Simms as Aunt Alice; Ryan Malgarini as Dale; Qiaona Xiao as Miriam Young; Robert Pine as Reggie; Michelle DeFraites as Party Girl #1; Andrea Bordeaux as Party Girl #2.
Promo: "The Party in the Pants"