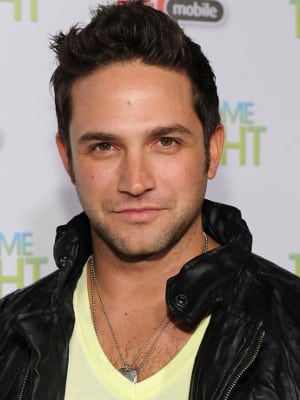 When word broke that Brandon Barash would be departing ABC's "General Hospital" after five years portraying the contract role of Johnny Zacchara on the daytime drama series, many fans began to wonder if we had already seen the last of the actor on screen as the character hadn't appeared on the canvas in some time. Turns out we haven't seen the last of Barash on "GH" just yet, but we will soon.
On Wednesday, March 27, Barash informed his nearly 60,000 followers on Twitter that he had "filmed [his] last scenes at 'GH' today…quite the strange and surreal day." The actor added, "I'll miss you, Johnny Z…see you in another life, brother."
"GH" Head Writer Ron Carlivati responded to Barash's tweet and said, "We will miss you, Brandon. Good luck out there…but feel free to come back whenever you want! All the best…Ron." Barash thanked Carlivati with a follow-up tweet that read: "Ron, you're the sweetest. It's been an honor to bring your words to life. #tillnexttime."
A last airdate for Barash has not been announced.
In Related News…
As previously reported, Barash will guest-star in the Monday, April 15 episode of FOX's "Bones." According to a show spokesperson, in the episode appropriately titled "The Party in the Pants," Barash will portray a good-looking yet aging exotic dancer who previously helped the episode's victim get into stripping. "Bones" airs at Mondays at 8:00 PM ET/PT on FOX.
Barash will be joined by "GH" co-star Kirsten Storms (Maxie Jones) for events scheduled in late April in New York and New Jersey. Via the every resourceful Coastal Entertainment, the actors will greet fans, sign autographs, answer questions and even share a meal with some of their biggest fans.
Complete event info below:
Saturday, April 27, 2013
Brandon Barash & Kirsten Storms (GH)
Private Dinner, Astoria, NY
(718) 728-8581
Showtime: 7 pm – 10 pm
Tickets: $165 includes dinner & complimentary glass of wine

Saturday, April 27, 2013
Brandon Barash & Kirsten Storms (GH)
McGuires Comedy Club
1627 Smithtown Avenue
Bohemia, NY
(631) 467-5413
Showtime: 1 pm
Tickets: $73 includes show, Q&A, Autographs, photo op

Sunday, April 28, 2013
Brandon Barash & Kirsten Storms (GH)
Uncle Vinnie's
520 Arnold Avenue
Point Pleasant, NJ
(732) 899-3900
Showtime: 11 am
Tickets: $65
For More Information: www.coastalentertainment.com