On April 14, 2011, ABC sent shockwaves throughout the daytime industry when it announced it had decided to cancel both "All My Children" and "One Life to Live" after 41 and 43 years on the air, respectively. Now two years to the day since that announcement, both soaps are in the process of not only returning to television but also to the world wide web courtesy of Prospect Park's The OnLine Network. With just two weeks to go before launch, we hope you're ready for a new kind of soap and a new way to watch soaps.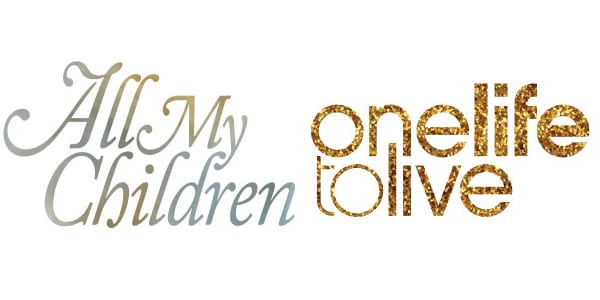 Monday, April 29 marks the day that both "AMC" and "OLTL" help transition daytime soap operas from broadcast television to online just as "Guiding Light" helped transition the genre from radio to television in the 1950s. Via Hulu, Hulu Plus and iTunes, fans will now have a new way to watch their favorite soaps. No longer will they be relegated to tuning in at a set time and day to watch what they missed in Pine Valley or Llanview. No more will they have to purchase old technology such as as a VCR (a what?) or even a more modernized version of the device called a DVR (so last year). Instead of recording an episode for later viewing fans can watch episodes when they want, how they want and wherever they want thanks to Hulu.com (for free) or their Hulu Plus enabled devices (with $7.99 a month Hulu Plus subscription). With iTunes, fans can purchase individual episodes of each series for .99 cents or they can purchase a $10 per month subscription for either soap they prefer, which allows multiple viewing capabilities including iPhone, iPad, iPod, Apple TV, Mac or PC for unlimited watching.
Stars Talk Hulu and Online Viewing:
Melissa Archer (Natalie Buchanan, "One Life to Live"): "Hulu is like my best friend. Seriously! I mean, I watch everything on there. For the last year, I didn't even have cable. I just watched Hulu and iTunes. So when I heard they were doing this again, and that it was going to be online, I thought, 'Oh my God, this is great!' It was an exciting thing. I really think this is going to be fun. I think we have an opportunity to change the platform a little bit to bring in newer audiences, keep old audiences.
Kassie DePaiva (Blair Cramer, "One Life to Live"): "For the seasoned person out there, it's scary. But it's an every day occrrence for the younger generation, and it's certainly where television is going. Where media is going."
Jordi Vilasuso (Griffin Castillo, "All My Children"): "Radio still exists, and TV will still exist, but the internet is going to become your TV in your living room. I mean we're going to be able to get all of the content we want, and you're going to be able to watch your Facebook feed while you're watching your favorite TV show. This is what people want. I even have trouble adjusting to it, because it's so much. But I think the human brain…I think we're starting to take stuff faster. We're evolving. Information is coming at us much quicker, so we have no option except to just absorb it."
Josh Kelly (Cutter Wentworth, "One Life to Live"): "I don't have cable. I don't have a TV. I have a projector that's hooked up to my Playstation. So I either watch movies on my computer or I do streaming on my projector."
Jerry verDorn (Clint Buchanan, "One Life to Live"): "I have two sons. One is 29, and one is 27, and when I was telling them about this, how we were going to be on Hulu and iTunes, they were both looking at me like, 'It's about time!' Because they're doing everything but watching TV on their coffee pot. They can't think of the last time they watched [something] on television if it wasn't football.
Erika Slezak (Viki Buchanan, "One Life to Live"): "I've got kids. And computers now, I know we have it in our house, because we have a genius son who puts it from the computer right onto the TV. I mean, you dont even know that it was ever on the computer. And you can watch it on as big of a television as you want. It's fantastic."
How to Watch for Free on Hulu:
All My Children on Hulu / One Life to Live on Hulu
How to Watch with Hulu Plus Subscription:
Purchase Hulu Plus Subscription / Supported Devices / All Available Shows & Movies on Hulu
How to Purchase Individual Episodes/Subscription on iTunes (not yet available):
All My Children on iTunes / One Life to Live on iTunes