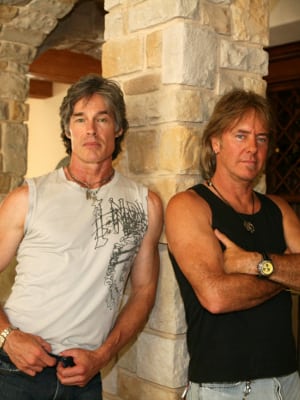 Been wondering what Ronn Moss has been up to since leaving his role as "The Bold and the Beautiful's" Ridge Forrester last September? Wonder no more: He and former bandmate Peter Beckett have reunited to bring Player — famous for their hits "Baby Come Back," "This Time I'm In It For Love," "It's For You" and more — back into the spotlight. The band just released their fifth album, "Too Many Reasons," and are hitting the stage for a special benefit concert!
On Monday, June 3, Player will perform at The Canyon Club in Agoura, CA. But they aren't getting together for just any old reason: Moss decided to have the show in honor of his wife, former Playboy Playmate Devin DeVasquez, who's celebrating her 50th birthday! In addition, the proceeds from the show will help support DeVasquez's favorite charity, Shelter Hope Pet Shop.
For more information on this one-night-only event, check out The Canyon Club's official website.