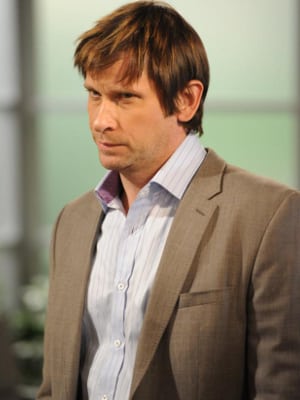 Shortly after news first broke that Roger Howarth, Kristen Alderson and Michael Easton would be returning to "General Hospital" as new characters, I tweeted, "Hearing Prospect Park won the character battle between it and ABC. More details on this matter forthcoming." Those details are now ready to be revealed!
Soap Opera Network has learned exclusively that although Howarth will be portraying a new character when he begins filming episodes of the ABC sudser on Monday, the actor will also continue portraying his iconic role of Todd Manning on The OnLine Network's "One Life to Live."
According to a senior level executive with knowledge of the situation, who requested anonymity because details of the deal were not public knowledge, fans can expect Howarth to return to "OLTL's'" Stamford, CT studio to film "more episodes only when he's not working on 'GH.'" We're told that was the deal ABC and Prospect Park agreed to while they continue negotiations over the characters.
At a fan event on Saturday, April 6, Alderson told fans that she might be meeting with Prospect Park, who owns the licensing rights to her "OLTL" character, Starr Manning, sometime in June without elaborating further. With news of her returning to "GH," it's unclear if those discussions are still scheduled to take place.
There is no word on whether Easton had been in formal discussions with Prospect Park to reprise his role of John McBain on the soap. When Soap Opera Network caught up with the actor's former onscreen love interest Melissa Archer (Natalie Buchanan, "OLTL") last night after the SoHo International Film Festival premiere of her new film, "WEST END," Archer said of Easton, "I'm so sad that I'm not going to be able to work with him, at least right now. I don't know what the future holds. But I love that boy." After learning ABC confirmed the three would be returning to work at "GH," Archer added, "I'm hoping everything is good and well for him and for all of them."