As previously reported, departing "General Hospital" star Brandon Barash (Johnny Zacchara) is scheduled to appear in the Monday, April 15 episode of FOX's "Bones." Now Soap Opera Network has your exclusive first look at the daytime star wearing a badge of honor.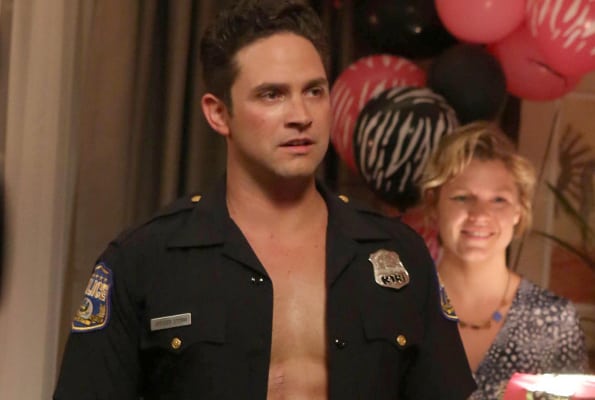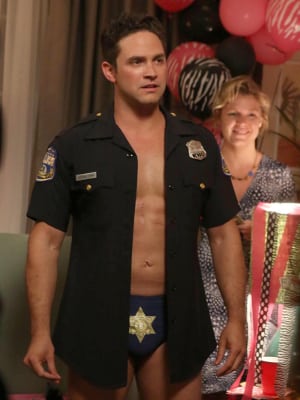 In the episode entitled "The Party in the Pants," Barash portrays a good-looking yet aging exotic dancer named Storm (how appropriate), who previously helped his friend Jack Spindler get into stripping. Sadly, his friend winds up dead and it's up to Booth (David Boreanaz) and Bones (Emily Deschanel) to track down his killer. In addition to a little skin from the sexy stud, the episode also features a guest appearance from Joanna Cassidy ("Body of Proof," "Six Feet Under"), who's revealed as Booth's mother.
Fans will recall that Booth's mom has been absent from his life for the past 24 years. How will he deal with her being back and needing his help? You'll have to tune in to find out!
WATCH: Brandon Barash Stripping!

"Bones" airs Mondays at 8:00 PM ET/PT on FOX. The episode carries a TV-14 D, L, S, V rating.
In Related News
On Wednesday, March 27, Barash informed his nearly 60,000 followers on Twitter that he had "filmed [his] last scenes at 'GH' today…quite the strange and surreal day." The actor added, "I'll miss you, Johnny Z…see you in another life, brother."
According to sources, Barash's last airdate on "GH" is tentatively scheduled for Friday, April 26.