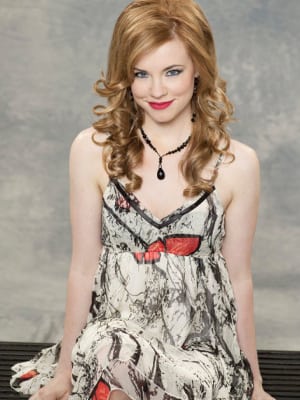 Cutie pie Molly Burnett left her role as "Days of our Lives'" Melanie Jonas in September, and the actress is already bringing her signature sunshiny smile elsewhere: To MTV!
Burnett stars as Ashley Bloom in the network's new "Made" movie, "Ladies' Man," which follows a college freshman (Dave Davis) who enlists the help of his former babysitter (Burnett) — now the campus sorority queen — as well as Jill (Melia Renee) to teach him how to become the ultimate wooer of women. The film also features rising stars Ryan Guzman ("The Last Exorcism Part II"), Mark Daugherty ("Awkward", "It's Always Sunny in Philadelphia"), Cole Escola ("Jack in a Box"), and Jeffery Self ("Desperate Housewives").
Look for Burnett in the MTV premiere of "Ladies' Man: A Made Movie" on Tuesday, April 9, at 9:00 PM ET. For more information, visit MTV's official website.