When "One Life to Live" returns next month, things won't exactly be going well for at least one longtime Llanview resident. According to "OLTL" Co-Head Writer Thom Racina, technology and tough economic times may have finally caught up with the town's matriarch Victoria Lord (Erika Slezak) and her family's newspaper The Banner.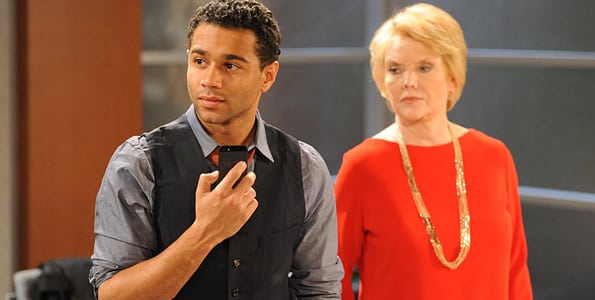 Racina tells TV Guide's Michael Logan, "We'll be looking at the fight that's going on in the publishing world these days — how do newspapers survive in the age of the Internet?"
But all hope is not lost for Viki in her quest to keep the paper afloat thanks to Llanview newcomer Jeffrey King, played by "High School Musical's" Corbin Bleu. "Jeffrey comes to town and develops a very close relationship with Viki. He'll become her star reporter in a story that will also heavily involve Dorian Lord [Robin Strasser].
But will it be enough to save The Banner? And how will Viki's brother Todd (Roger Howarth) and his now-Port Charles based paper The Sun factor into the equation when he returns to town?
Tune in to find out!
Click here to see on set photos from the new "OLTL."
"One Life to Live," along with sister soap "All My Children," premieres Monday, April 29 on Hulu, Hulu Plus, and iTunes.