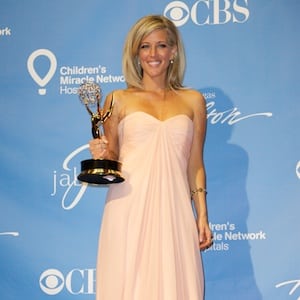 The peer votes have been cast, and the National Academy of Television Arts and Sciences has announced the Drama Performer Pre-Nominations for the 40th Annual Daytime Entertainment Emmy Awards! Five categories have been announced, including Lead Actress and Lead Actor, Supporting Actress and Supporting Actor, as well as Younger Actress and Younger Actor. Without further adieu, here are the pre-nominees:
Outstanding Lead Actress In A Drama Series
Outstanding Lead Actor In A Drama Series
Maurice Benard as Sonny on "GH"
Peter Bergman as Jack on "Y&R"
Doug Davidson as Paul on "Y&R"
Don Diamont as Bill on "B&B"
Roger Howarth as Todd on "GH"
Christian LeBlanc as Michael on "Y&R"
John McCook as Eric on "B&B"
Michael Muhney as Adam on "Y&R"
Stephen Nichols as Tucker on "Y&R"
Jason Thompson as Patrick on "GH"
Outstanding Supporting Actress In A Drama Series
Julie Marie Berman as Lulu on "GH"
Jessica Collins as Avery on "Y&R"
Melissa Claire Egan as Chelsea on "Y&R"
Nancy Lee Grahn as Alexis on "GH"
Elizabeth Hendrickson as Chloe on "Y&R"
Rebecca Herbst as Elizabeth on "GH"
Katherine Kelly Lang as Brooke on "B&B"
Lisa LoCicero as Olivia on "GH"
Robin Mattson as Heather on "GH"
Arianne Zucker as Nicole on "DAYS"
Outstanding Supporting Actor In A Drama Series
Bradford Anderson as Spinelli on "GH"
Jeff Branson as Ronan on "Y&R"
Scott Clifton as Liam on "B&B"
Shawn Christian as Daniel on "DAYS"
Bryan Datttilo as Lucas on "DAYS"
Billy Miller as Billy on "Y&R"
Peter Porte as Ricky on "Y&R"
James Reynolds as Abe on "DAYS"
Greg Rikaart as Kevin on "Y&R"
Greg Vaughan as Eric on "DAYS"
Outstanding Younger Actress In A Drama Series
Kristen Alderson as Starr on "GH"
Camila Banus as Gabi on "DAYS"
Linsey Godfrey as Caroline on "B&B"
Hunter King as Summer on "Y&R"
Kate Mansi as Abigail on "DAYS"
Kim Matula as Hope on "B&B"
Lindsey Morgan as Kristina on "GH"
Haley Pullos as Molly on "GH"
Jacqueline MacInnes Wood as Steffy on "B&B"
Outstanding Younger Actor In A Drama Series
Casey Deidrick as Chad on" DAYS"
Chad Duell as Michael on "GH"
Max Ehrich as Fenmore on "Y&R"
Adam Gregory as Thomas on "B&B"
Bryton James as Devon on "Y&R"
Chandler Massey as Will on "DAYS"
Daniel Polo as Jamie on "Y&R"
Tequan Richmond as TJ on "GH"
Freddie Smith as Sonny on "DAYS"
So there you have it! Once the blue ribbon panel views the actors' reels, they'll select the official nominees, which will be announced on Wednesday, May 1. Be sure to check back for that announcement, as well as any updates we may get concerning the date, location and broadcast plans for this year's celebration!