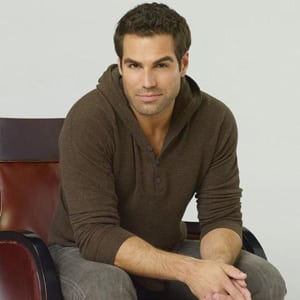 Prospect Park has asked "All My Children" cast members to keep a lid on details regarding the new Pine Valley — but did you really think they'd be able to keep quiet about everything for long? Heck no! There's plenty of behind-the-scenes buzz flying around Facebook and Twitter, and from what we can tell, "AMC 2.0" is going to rock your world!
First of all, there's a rumor going around that we may — just may — catch a glimpse of Dr. David Hayward's (Vincent Irizarry) yummy tush. If your heart is pumping a little faster over that bit of delicious news, he'll no doubt be glad (he is a cardiologist, after all)! Could we also be privy to seeing Pine Valley's other sexy doc, Griffin, in the nude? "[I] don't know!" tweets portrayer Jordi Vilasuso. "I've heard things, but haven't been asked for the Full Monty."
Either way, you can bet the "AMC" stars are a bit torn by the great snacks Prospect Park has provided on set: a juicing station and a make-your-own-pancake bar! On the one hand, yum! But on the other? "Don't be surprised if there are no more skinny people in Pine Valley!" jokes Eden Riegel, who plays Bianca. (Side note: Someone better warn Cady McClain to stay away from those pancakes… We'd hate to see Dixie fall victim to yet another tragedy involving the breakfast staple!)
So pancakes and nudies galore. Looks like Pine Valley is shaping up to be quite a fun place! But that's not all. The stories are supposedly top-notch and can't-be-missed, as well. Tweets Eric Nelson, who's playing AJ: "You guys are going to freak over what you see!"
Well, "AMC," we can't wait!