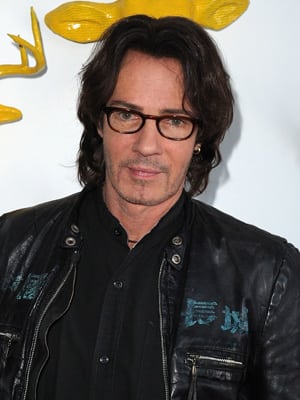 As had been widely expected, Rick Springfield is returning to ABC's "General Hospital" just as the soap gets ready to hit the half century mark. According to People Magazine, Springfield, who debuted as Dr. Noah Drake on "GH" in 1981 before launching himself into superstardom starting with the debut of hit single "Jessie's Girl," will reprise his role over the course of several episodes in April.
"He lost his wife and became a drunk and regretted all these terrible, sinful ways and then cleaned his act up when he almost died from the alcohol," said Springfield in reference to how his character has evolved. "Now he disappears all the time, going to Doctors Without Borders and going around the world helping people. I guess he's gone from a drunk to being incredibly altruistic. I'm not nearly as altruistic as Noah Drake is."
In addition to Springfield's return, People is reporting that the actor's son, Liam Springthorpe, will also make an appearance on "GH" as a cop. While talking to People, Springthorpe said, "I think it makes it much more pleasing and applicable for me because I think at least for me personally, I have always tried to keep a bit of distance from … my father's path, and respectfully so." He added, "I think this is a really good way to kind of go about getting my foot in the door, meanwhile being comfortable in the process." Like his father, Springthrope has his own band.
Springfield and Springthorpe are not expected to share scenes with one another, according to People.
"General Hospital" airs its 50th anniversary episode on Monday, April 1 at 2:00 PM ET/1:00 PM PT/CT on ABC.