On its Facebook page today, NBC's "Days of our Lives" uploaded a congratulatory card for Gabi Hernandez (Camila Banus) and William Horton (Chandler Massey), and Nick Fallon (Blake Berris), which revealed the sex of the baby that the town of Salem is currently fighting over.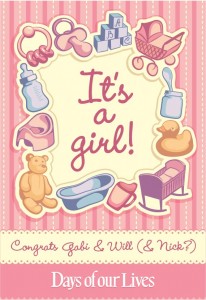 Per the posting, it looks like Will and Gabi will be having a girl.
During the 12,000th episode, which aired on Friday, January 11, everyone learned that Will was the real father of Gabi's baby and not Nick, who had been pretending all this time. On tomorrow's episode, Will announces that he wants to be part of his baby's life, but will Nick try and get in his way? You have to tune in to find out!