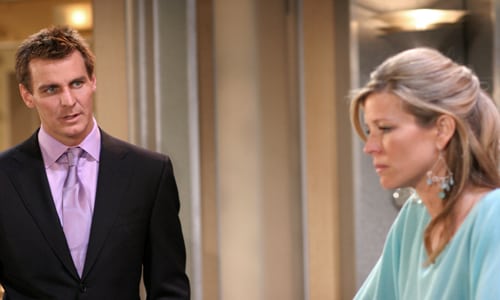 On the Friday, August 3 episode of ABC's "General Hospital" fans were shocked to learn that Jerry Jacks (Sebastian Roché) was back! This time the mastermind behind the Metro Court disaster is working with Ewen Keenan (Nathin Butler), and once again Mr. Jacks is playing with the life of Robin Scorpio (Kimberly McCullough) – he previously shot her under the guise of Mr. Craig while trying to prove how serious the hostage situation was to those present.
Jerry's return plays a pivotal part in the upcoming storyline that will help transition "General Hospital" into its new timeslot (2:00 PM ET/1:00 PM PT) on ABC.
In addition to Jerry, fans can look forward to the return of Jasper "Jax" Jacks (Ingo Rademacher) later this month. According to sources, Jax returns to Port Charles in a more favored circumstance as his ex-wife Carly (Laura Wright) comforts him. Rademacher's first airdate is scheduled for the week of August 20.