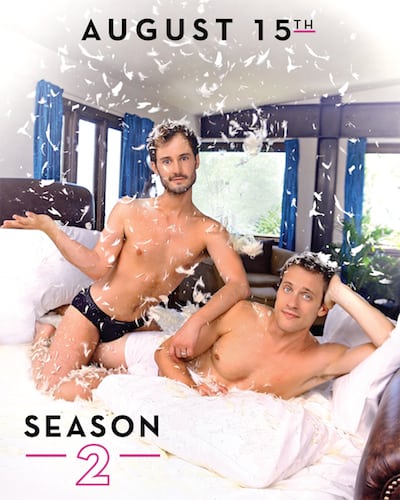 On Friday, July 27, we reported that CBS' "The Young and the Restless" would be holding a Paley Center for Media panel as the daytime soap gears up to celebrate its 10,000th show. We are also happy to report that "Husbands," an online series following the lives of a young same-sex couple through all their trials and tribulations will make history as the first online series to be hosted by The Paley Center for Media in Beverly Hills, California.
The comedy series, co-created by Jane Espenson ("Once Upon a Time") and writer/actor Brad Bell ("Pop-Up Video"), stars Bell, using his persona "Cheeks," and Sean Hemeon (Brady Kelly) as two men, dating for only six weeks, who wake up in Vegas to find themselves married all thanks to marriage equality. The series also stars Alessandra Torresani (Haley).
The Paley Center for Media event honoring "Husbands" takes place on Monday, August 13 at 7:00 PM PT with the full cast along with Espenson and executive producer/director Jeff Greenstein scheduled to attend. As part of the celebration fans of the series can attend the Q&A session if they are in the Los Angeles area and willing to cough up $7 for non-members or $5 for members of the Paley Center. If you're unable to attend in person, @PaleyCenter via Twitter will be the place to tweet to and #PaleyLiveLA will be the hashtag used for discussion on the program from around the world. Tweets sent in will be seen on a widget added to the Paley Center page for "Husbands" page on the day of the event.
[box_info]To purchase tickets, click here.
Event Location
The Paley Center for Media
465 North Beverly Drive
Beverly Hills, CA 90210[/box_info]
Note: All attendees are invited to a Ben & Jerry's ice cream social event immediately following the panel wherein they'll get to taste the ice cream giants "Husbands" inspired ice cream flavor.
The second season of "Husbands" hits the web on Wednesday, August 15 only at LoveHusbands.com. The eleven episode first season can be viewed now at husbandstheseries.com in advance of season two's premiere.
Some famous faces that have appeared in "Husbands" includes former "One Life to Live" star Nathan Fillion (now starring in ABC's "Castle") and YouTube sensation Michael Buckley ("What the Buck?").