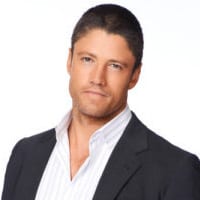 EXCLUSIVE: Beginning today at 2:00 PM ET/11:00 AM PT, cast members of NBC's "Days of our Lives" will take part in live chats, interviews and interactions with fans of the popular daytime drama series on NBC.com, while the soap is on hiatus during the networks coverage of the Summer Olympic Games in London. Soap Opera Network already revealed who will take part during this weeks sessions, but now we can reveal exclusively who will be taking part next week!
According to a "DAYS" representative, Daytime Emmy Award nominated producer and director Albert Alarr will take part in discussion with fans of the drama series on Monday, August 6. Actress Molly Burnett (Melanie Jonas) steps up on Tuesday, August 7, while Casey Deidrick (Chad DiMera) takes part on Wednesday, August 8. Meanwhile, Gabi Hernandez's portrayer Camila Banus checks in on Thursday, August 9, and James Scott (EJ DiMera) will hopefully give fans a preview of what's ahead when he chats live on Friday, August 10.
All chats and fan interactions are scheduled to take place for approximately a half hour from 2:00 PM ET/11:00 AM PT to 2:30 PM ET/11:30 AM PT.
As a recap, here are the full list of participants:
 7/30/12 – Lisa Rinna (Billie Reed)
7/31/12 – Arianne Zucker (Nicole Walker)
8/1/12 – Shawn Christian (Daniel Jonas)
8/2/12 – Kate Mansi (Abigail Deveraux)
8/3/12 – Eric Martsolf (Brady Black)
8/6/12 – Albert Alarr ("DAYS" Producer/Director)
8/7/12 – Molly Burnett (Melanie Jonas)
8/8/12 – Casey Deidrick (Chad DiMera)
8/9/12 – Camila Banus (Gabi Hernandez)
8/10/12 – James Scott (EJ DiMera)
Note: Cast participation is subject to change.
"Days of our Lives" returns on Monday, August 13, when viewers learn the fates of everyone caught in the explosion that has rocked Salem.