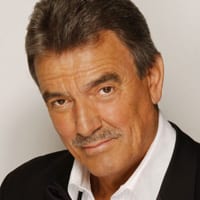 Eric Braeden is best known to daytime fans of CBS' "The Young and the Restless" as Victor Newman, and in celebration of the shows upcoming 10,000th episode (tentatively scheduled for Thursday, September 27), the actor appeared on today's edition of "The Talk," with guest co-host Shannen Doherty.
In the interview Braeden touched on the topic of how important the writing is key to the success of the show. Ironically, it was announced yesterday that the writing team at "Y&R" would receive a major overhaul as Maria Arena Bell was ousted as the soaps head writer and executive producer. Also out is co-head writer Scott Hamner. The fate of Hogan Sheffer, another co-head writer on the show, has yet to be determined. Jill Farren Phelps will step in as executive producer with Josh Griffith, Jr. in as head writer.
"Good writing is fundamental and often forgotten," said the 71-year old actor. "Writers get the least amount of publicity, and actually deserve the most. The confluence of good writing and actors doesn't happen very often. And then in the end it is something mysterious. Either something works or it doesn't. You can't put your finger on it," he continued.
For the Braeden's full "Talk" appearance watch the clip below: