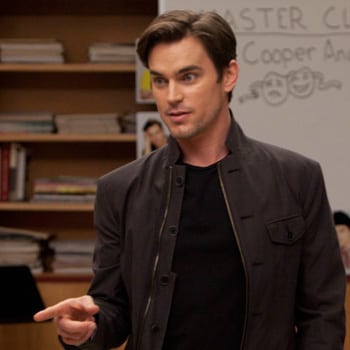 Matt Bomer debuts in tonight's Spring premiere episode of "Glee," the FOX sensation whose cast recently learned they are one of the Top-10 selling digital artists of all-time according to Nielsen SoundScan. The list included such artists as Rihanna, Lady Gaga, Taylor Swift, Katy Perry and the Black Eyed Peas. The "Glee" cast ranks eighth with 32 million songs digitally downloaded.
Best known to mainstream viewers for his portrayal of Neal Caffrey on the USA Network hit series "White Collar," Bomer actually caught his big break in 2001 when he joined the cast of "Guiding Light" as Ben Reade. Although he left the CBS soap in 2003, the actor went on to become one of the actors to be in the running for the role of Superman, although he didn't get the part. He also appeared in episodes of "Tru Calling" and "Chuck." In October 2011, in the role of Henry Hamilton, Bomer helped kickstart the storyline of the film "In Time" starring Justin Timberlake.
In "Glee," Bomer is scheduled to appear in the role of Hollywood celebrity Cooper Anderson, the older brother of Blaine Anderson (portrayed by Darren Criss), in the episode appropriately titled "Big Brother."
Episode Description
Much to Blaine's chagrin, his big-shot Hollywood actor brother, Cooper, comes to visit Lima in the all-new Spring Premiere episode of "Glee" entitled "Big Brother." Could Cooper be the mystery baby daddy of Sue Sylvester's (Jane Lynch) unborn baby? Tune in to find out on an all-new "Glee" airing Tuesday, April 10, 2012 on FOX.
"Glee" airs Tuesdays at 8/7c on FOX.