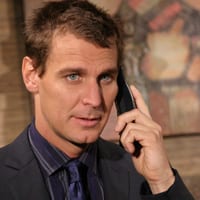 (SoapOperaNetwork.com) — A look at what's happening on "General Hospital" during the week of January 9, 2012.
THIS WEEK ON: GENERAL HOSPITAL
Olivia demands answers on Monday, January 9. She later confides her concerns to Dante. Steve and Maggie discuss the past and their secret. Olivia loses her cool. At yoga class, on Tuesday, January 10, an unsettled Maxie takes out her anxiety on Lulu. Tracy and Maxie have their hands full with Anthony. Cassandra spies on Ethan and Ewen. On Wednesday, January 11, a dark and looming Helena watches the events unfold at Wyndemere. Ethan and Cassandra give in to their attraction. Patrick overhears Jason pressing Robin to come clean to her husband. Robin continues to deceive Patrick. On Friday, January 13, Elizabeth has a difficult but necessary conversation with Patrick about his wife.
The Inside Story: Bulletproof
What exactly is Sonny plotting concerning Jax? That's what Kate would like to know on Monday, January 9. Kate later places a mysterious phone call. Carly, meanwhile, suggests to Johnny that he'd benefit more form an intimate alliance with her rather than a professional alliance with her son. Later, Sonny and Kate are less than thrilled when Carly barrels in on them in at an inopportune moment. Michael confronts Anthony. Delores finds a new connection between the victims of the killer. Carly asks Luke to help her gain the upper hand. Sonny and Johnny face off. Michael presses Sonny to do what everybody else has failed to do so far – find the killer and make the person pay. Meanwhile, Delores discovers some more clues pertaining to the murders. Kate urges Sonny not to oblige Michael's dark side. Michael purchases a gun. Jax places himself back into the picture.
A Closer Look: The Stork Report
Sam and Michael have a heart to heart. Just as she's about to confide in him about her potential pregnancy, Sam receives a troubling call from Patrick concerning Jason. Sam receives the pregnancy test results. Jason's continued focus on Franco leaves Sam out in the cold. Sam ponders what the future now holds. On Thursday, January 12, Sonny presses Jason to let go of his obsession with Franco to no avail. Alexis and Molly surprise Sam. Jason confronts Franco. Sam tells Jason that she is pregnant.
GH ALERTS: WEEK OF JANUARY 16, 2012

Patrick prepares himself to confront Robin.
Maxie and Elizabeth spar over Matt.
Carly and Johnny make big plans.
Jax reaches out to Michael.
Tracy is trapped in more ways than one.