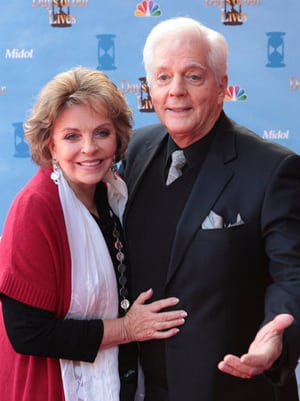 Bill Hayes and Susan Seaforth Hayes are two of the longest running current cast members left on NBC's "Days of our Lives," but you wouldn't know it because they are barely on! Thankfully the network hosts its annual "A Day of Days" fan event where fans far and wide can come and meet their favorite stars and catch the rarest of glimpses of those not seen enough on screen at Universal Studios CityWalk in Hollywood, California. Considered one of "DAYS'" premiere couples with their portrayal of Doug and Julie Williams on the drama series, Seaforth Hayes and her husband sat down with Soap Opera Network to discuss fans, what has kept the show going for all these years and where they see things headed in the future and even a whopper surrounding the Horton clan's near demise from the canvas.
"The amount of time we have with the fans is kind of limited because it's a line for the autographs. The Q&A out in the open there at the end of the day is always hysterical. People saying 'take your shirt off' and the guys taking their shirts off, so everybody is happy but it's not a profoundly intimate experience for the actors with the fans," said Seaforth Hayes of the "Day of Days" festivities. "Oh, I think it is wonderful that we get to see the people that are that devoted that they will give up a Saturday morning or Saturday afternoon and come [here] to see us and talk to us and be with us. I think that is wonderful. Soap audiences are just different from any other audience. They are very involved, they are loyal and they are devoted. They just want to talk and it's wonderful," countered Hayes.
In November 2008, "Days of our Lives" received a 40% reduction in its yearly operating budget when its contract was renegotiated with NBC. As a result of the reduction the show has been forced to produce more episodes in a single week than ever before while also undergoing a number of weeks where the set is dark. Shockingly enough, the current climate the show is facing with budgetary issues isn't news to Seaforth Hayes. In 1968 H. Wesley Kenney, a supervising producer at the time, told then head writer William J. Bell that he had to help cut down the budget because the show was over budget. "It's always been an issue. The reason we don't have any music anymore…budget, budget, budget," said Seaforth Hayes of the shows history with budgetary constraints. "The reason we are doing eight shows a week instead of five shows a week…budget, budget, budget! The scripts aren't any thinner, there's just as much work going on, but that's like that for everybody that's lucky enough to have a job who are probably doing the job of two people at the moment," she continued. Hayes for his part said, "we're off about 16 weeks a year now and that's to save money and doing eight shows in five days is impossible." Seaforth Hayes added, "but if we cannot do it, we wouldn't be there."
Because the show films so far in advance due to its budgetary reasons, much of the storylines the actors find themselves discussing in the media were filmed long ago, meaning that sometimes they aren't aware of what viewers are seeing in real time. That's not a problem for either Seaforth Hayes or her husband. "With the reboot that we've accomplished, and is now on the air, we are way ahead of the shows that [viewers] are seeing now because of this clutch of doing it so fast," explains the actress who teases enthusiastically that "there's wonderful story coming up. The Alice's secret storyline is something we're involved in that we're very excited about." Unfortunately, that excitement almost came at a price.
At one point earlier this year the Horton clan was about to become extinct. "We're happy the Horton's are back on the map, but we came very close to the Horton set being burned. Not as a plot point, just destroyed," said Seaforth Hayes. "They needed the space and they said 'let's just get rid of this," said Hayes referring to the Horton Family house, which historically is one of the largest sets in the "Days of our Lives" studio on the NBC lot. Seaforth Hayes further explained the situation when she noted they were told "'we're not going to use the Horton family anymore," which certainly would have immediately changed the dynamics of "Days of our Lives" in and of itself. In a case of good karma coming their way, Seaforth Hayes, her husband and the rest of the cast and crew would soon learn that the show was headed in a new direction. "That's when we had our change of personnel. That's when we had our total change."
With new head writers and a new producing team now in place things are definitely on the upside. "We're happy and we're looking forward to next year," said Seaforth Hayes. "Our new head writers are energetic, they have good ideas and are telling great stories," Hayes added.
Early next year the dynamic duo will come out with their first novel together which is set to be released by Decadent Publications. "It's a historical novel. We've been working on it for more than five… close to six years. It's a terrific read if I do say so myself," said Seaforth Hayes. The novel is currently untitled. In 2005 they released their joint autobiography "Like Sands through the Hour Glass."