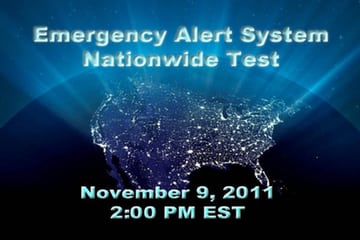 (SoapOperaNetwork.com) — As we first reported back in June, this afternoon (Wednesday, November 9), the Federal Communications Commission (FCC), the Federal Emergency Management Agency (FEMA), and the National Oceanic and Atmospheric Association (NOAA), will be conducting their first ever nationwide test of the Emergency Alert System at about 2:00pm ET. During the test, all regularly scheduled programming on television, cable, satellite, and radio will be pre-empted. However, while the test was originally scheduled to last as long as three and one half minutes, it should now last only about thirty seconds. That is good news for soap fans, especially for those of "One Life to Live," who have seen their soap interrupted countless times over the years for breaking news and weather coverage by both ABC and their local affiliates.
According to FEMA, 2:00 pm ET was chosen because it "will minimize disruption during rush hours, while ensuring that the test can occur during normal business hours across several time zones." The test will be carried out nationwide across all 50 states, the District of Columbia, and the U.S. territories.
The agency also reminds viewers what they will see and hear during the test. "During the test, listeners will hear a message indicating that 'This is a test.' Although the EAS Test may resemble the periodic, monthly EAS tests that most Americans are already familiar with, there will be some differences in what viewers will see and hear. The audio message will be the same for all EAS Participants; however, due to limitations in the EAS, the video test message scroll may not be the same or indicate that 'This is a test.' This is due to the use of the live EAN code – the same code that would be used in an actual emergency. The text at the top of the television screen may indicate that an 'Emergency Action Notification has been issued.' This notification is used to disseminate a national alert and in this case, the test. In addition, the background image that appears on video screens during an alert may indicate that "This is a test," but in some instances there might not be an image at all," reads a statement on their website.
Click here to learn more about today's nationwide EAS test.