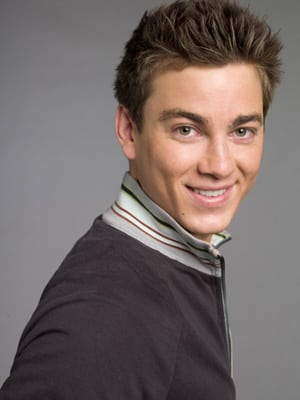 (SoapOperaNetwork.com) — As we previously reported, "One Life to Live" was forced to replace Brandon Buddy with Van Hughes in the role of Cole Thornhart just one day after Buddy reprised the role for an upcoming storyline with ex-girlfriend Starr Manning (Kristen Alderson). Now the actor has taken to Twitter to apologize to fans for the sudden turn of events.
In a series of tweets dated Thursday, November 10, Buddy explains, "Hi everyone! I wanted to say that I am so sorry that I was unable to make a return to 'OLTL' as I intended due to personal family issues. I cherish the time that I had on the show and always will. The fans mean more to me then words can express. I'm devastated about this! Again I am so sorry! Thank you all for your love and support! It really helps me in times like this. Thank you and God bless!"
Buddy's journey back to the set of "One Life" began in early August when he posted another series of tweets begging fans to help him get back on the show. "I want/need everyone to send in your love for cole! I'm tired of sitting around. Get me back on the the show so I can finish what I started. I love my fans/friends let's go!!! No more f**ging around!!!!!!!!! Ok!!! Let me think! I hope I don't get in trouble for this! …..standby! : )," said the actor at the time.
Although both Buddy and the show are keeping mum on the specific reason as to the need for an emergency recast, Texas public court records from Travis County indicate that an individual with the full name Brandon Robert Buddy, which is the actors full name, along with matching birthday (verified by Soap Opera Network via district clerk), is scheduled to appear before a judge next month on charges of "INJURY CHILD/ELDERLY/DISABLE W/INT SBI/MENTAL," or allegedly causing harm to a Child/Elderly/Disabled person with the intention to cause serious bodily injury or mental injury.
Buddy was reportedly involved in a traffic accident early last month. On October 8, he tweeted "So check this out! I was headed to Dallas for the Texas OU game yesterday and someone rear ended me going over 60 mph totaling my car. I had to climb out of the window to get out of the car! Craziness!"
While there is no reason to presume that Buddy's personal family matter is in anyway tied to these reported legal issues, Soap Opera Network wishes Buddy nothing but the best as he works to get things back on track.
Meanwhile, "OLTL" is moving forward with Van Hughes in the role. The Broadway vet, who reshot all of Buddy's scenes, taped for the first time with Alderson last Tuesday. In fact, she tweeted on Friday (November 11) that "Nic [Robuck],Van, & I have been working extremely hard for the #Jarr & #Sole fans! Having a lot of fun, can't wait until you guys see what happens!"