Report: 'One Life to Live' Head Writer Ron Carlivati Heading to Prospect Park?
Donna Svennevik/ABC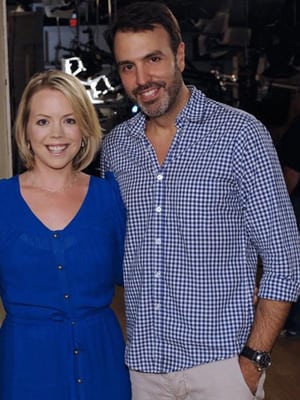 (SoapOperaNetwork.com) — As previously reported, "One Life to Live" executive producer Frank Valentini will be taking over both "OLTL" and "All My Children," when he begins his new position as Vice President, Serial Dramas, for Prospect Park immediately following the end of production for "One Life" under the guidance of ABC. Now comes word from our friends at Daytime Confidential, who are reporting that "One Life to Live" Head Writer Ron Carlivati will be joining the show when it transitions to the web beginning in January, despite ABC declaring his move to "General Hospital" in June – weeks before it was announced production company Prospect Park would be taking over production of the series from the network along with "All My Children."
Will the dynamic duo of Frank Valentini and Ron Carlivati be reuniting for Prospect Park's continuation of One Life to Live? That's the word that recently had actors on the set of the sudser buzzing. According to one source, Carlivati will likely pass on moving over to General Hospital, as had been previously planned, and will continue to write story for our favorite citizens of Llanview, PA., like Kassie DePaiva's Blair seen above with Carlivati. Keep checking back with Daytime Confidential as this interesting story develops…
A move to Prospect Park's version of "One Life to Live" would come as quite a shock as it was on August 18, just one month ago, when an ABC rep stated plans for Carlivati's move to "GH" are still in place "as far as [they] know." Although they didn't confirm nor deny anything regarding Carlivati's status, another ABC rep today informed Soap Opera Network that "If there is an announcement to be made about someone signing with Prospect Park, it will be made by Prospect Park. They have been great about making these announcements."
Both Carlivati and Valentini had signed long-term contracts with ABC back in September of 2010 that were to hold the duo at the network through 2012 (Valentini) and 2013 (Carlivati) respectively. Clearly, the network has been gracious with allowing both men the possibility of moving on with the show they helped position as one of daytime's silent heroes.