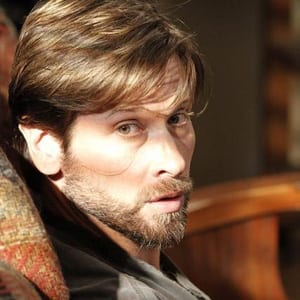 (SoapOperaNetwork.com) — A look at what's happening on "One Life to Live" during the week of October 3, 2011.
THIS WEEK ON: ONE LIFE TO LIVE
Tina runs into Cord, and their ensuing confrontation inches the old flames closer together. But will they kiss? On Friday, October 7, Clint walks in on his flustered son and ex-daughter-in-law. Tina asks Viki to use the Banner to help find doggie David Vickers and wishes her sister would just let the past stay buried. Tina confides in Viki about Cord. And Viki finally agrees to give her little sister a second chance.
The Inside Story: A Death in the Family
Bo risks his life to save Todd's loved ones on Monday, October 3. Mayor Finn is upset about Todd's jail break. Starr is arrested. Tomas realizes Blair still has feelings for Todd, and arrives just as Todd and Irene are arguing. Todd, meanwhile, puts an end to his mother's reign of terror. Tomas covers for Todd. A delirious Todd is taunted by visions of Irene. Tomas informs Blair and Téa that Todd needs help. Natalie makes an interesting discovery. Blair comes face-to-face with a wounded Todd on Wednesday, October 5. Tomas sticks to his story. Todd's condition worsens on Thursday, October 6. Téa is there for her brother's arraignment. Starr learns what has happened to her father, and leans on James for support. By Friday, October 7, Blair urges Todd not to give up, and the pair remember their lives together. Jack gloats about sticking it to Todd. And Starr grows more suspicious of her brother's story.
A Closer Look: Ulterior Motives
On Monday, October 3, Viki worries Natalie might be marrying Brody for all the wrong reasons. Jessica discovers Natalie's paternity test results while looking for Tina's dog, and later nearly makes a confession to Brody. As tensions thaw slightly between he and Jessica, Brody is hopeful that everyone will live happily ever after on Wednesday, October 5. Jessica spends time with her big brother Cord, and has a guilty conscience about keeping the secret about baby Liam. On Friday, October 7, Jessica confides in Ford, who questions her motives for not telling everyone the truth.
OLTL ALERTS: WEEK OF OCTOBER 10, 2011

Kim's friend in hospital bed wakes up from her coma.
Clint asks Viki if she has thought about dating again.
Rama puts the screws to her old friend Kim.
Someone pulls a gun on Jack.
Shane recalls the night Victor was shot.