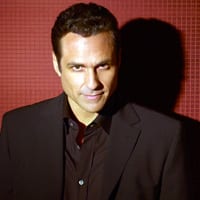 (SoapOperaNetwork.com) — "General Hospital" Episode Recap – Monday, September 26, 2011.
IT HAPPENED TODAY…
Dante tries to answer Lulu's cell phone call. Michael and Abby join Carly at the warehouse, only for Michael to discover his brother.
We pick up on Jason and Sam dancing blissfully at their wedding reception – as Franco dances as well. All the guests delight in their wise fortunes except for Maxie, whose cookie lessons hit too close to home. Jason and Sam head out to their honeymoon – so does Franco.
Kate and Sonny discuss their past in familiar surroundings.
Kristina asks Kate for a job in fashion to Alexis' horror.
Olivia surprises Steve with a rooftop picnic at the hospital, but what is he hiding about his past?
On the Next General Hospital…
Olivia gets bad news.
Ethan discovers a distraught Lucky.
Sonny and Alexis discuss Kristina's future.