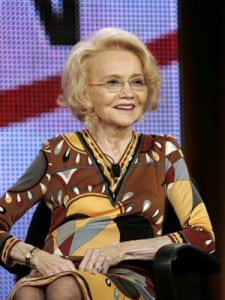 (SoapOperaNetwork.com) — "All My Children" Episode Recap – Friday, September 23, 2011.
IT HAPPENED TODAY…
"All My Children's" final network airing begins with a shot of the birth of the one and only Erica Kane. The audience is treated to flashbacks and current shots of the parents of Pine Valley with their children. Spike, AJ and Miranda recite a poem written by "AMC" creator Agnes Nixon (pictured) that is familiar to millions of fans: The Great and the Least, The Rich and the Poor, The Weak and the Strong, In Sickness and in Health,In Joy and Sorrow, In Tragedy and Triumph, We (You) are All Your (My) Children.
Cara and Angie try to convince Jesse to release David. Adam arranges for David to be released on bail. David arrives at the mansion to see Adam. Adam thanks David and hands him a envelope full of cash. Dixie confronts David about the female patient that was in the room with her. David only hints that she wouldn't believe it even if he told her who the other patient is and takes his leave.
Randi reveals to Frankie and the Hubbard's that she may be pregnant.
Stuart and Marian share an emotional reunion. Brooke reveals to Adam that she used her inheritance from her aunt Phoebe to save the Chandler mansion from foreclosure. Adam is deeply touched. Brooke and Adam throw a party in Stuart's honor. All of Pine Valley attends to celebrate the return of one of Pine Valley's finest. Everybody gets reacquainted. Adam proposes to Brooke. She accepts. It's an emotional moment as Tad makes a toast to Pine Valley.
Opal tells Erica she's underestimated just how upset Jackson is. She tells her best bud she found Jackson at the penthouse packing up his things. Erica is determined to fix things with Jackson. Jackson in unimpressed when Erica presents him with a plane ticket to join her in California. Erica admits to Jackson that she doesn't want to get married. Jackson tells Erica their journey together is over and walks away from her … this time for good? Erica chases Jackson through the full Chandler parlor and pleads for him not to leave her. She needs him. Jackson channels Rhett Butler and tells his long time love "frankly, Erica, I don't give a damn what you need" and he walks out of her life. Erica swears she'll get Jackson back.
JR continues to unravel despite his family's best efforts. JR lashes out at Dixie. Dixie and Adam agree that maybe JR going away is for the best. JR lurks through the mansion tunnel with a gun watching the events unfold. An armed JR continues to lie in wait for his shot as Erica races after Jack. A shot is fired.
On the Next All My Children…
"All My Children" is scheduled to return with new episodes on the internet in 2012. Soap Opera Network will keep you informed of the future developments as production company Prospect Park works to bring Pine Valley back to its many fans.