(SoapOperaNetwork.com) — After a 20 year absence, actor Thom Bierdz (Phillip Chancellor III) returned to CBS' "The Young and the Restless" in 2009 with the revelation that his character was gay – one of the few out characters currently portrayed on American soaps. As the only openly gay actor appearing in a soap opera, Bierdz took time out of his busy day on Wednesday, February 16, to speak with Soap Opera Network about his most recent return to daytime's top soap, his passion for art and his Amazon bestseller "Forgiving Troy," which delves into the mind, the life and the heart of a man dealing with trauma through the power of the written word.
Your name is very unique, and sometimes can be pronounced incorrectly by individuals. Is it pronounced like Tom Beards? Did I say that right?
You did! Beards, like facial hair. I kind of wish I would have spelled it like that when I moved out here [Los Angeles, CA] because it's such a hard name to spell. Plus, with the name T-H-O-M, I think it's hard for people to find me online and stuff. In retrospect, I would have spelled my name much more simple.
You came back to "The Young and the Restless" after a LONG absence [20 years] in 2009. Now, the character you portray was reportedly dead and then he came back to life, but he was in hiding because he didn't want his family to realize he was alive because he had secrets he was hiding [Exhausted]? Tell us more about that.
That is right. My character died in 1989, and in 2009 the writers and producers brought me back with the storyline that I faked my death for twenty years because I was gay and couldn't tell anybody about it. So it was really cool. By that time I was an out gay actor, so for me to return to such an integral job 20 years later was a real gift, especially to do it was the authenticity of who I really am. I'm really happy to be a part of "Y&R," especially to be the gay part of "Y&R."
Whose decision was it to bring the character back as a gay character? Was it a combination of you discussing returning to the show and they decided to do it then? At what point did they decide to make the character gay?
I had several meetings with Maria Arena Bell [Head Writer/Executive Producer of "Y&R"] and Josh O'Connell [Associate Producer] and they wanted to revise Phillip, as did I. It was really cool.
So between the conversations you had about returning, it was also decided you would bring the character back as an out character? One of the few we have in daytime…
I had no interest in coming back and doing the same thing I did, even though it is a great job. I had already done that. To be able to do something different was very exciting for me as a man. On a bigger level as an actor. As a man it meant a lot to me to do something different.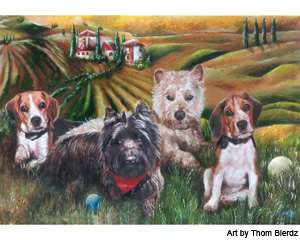 So what have you been up to since your time on "Y&R" in the '80s up until your return and even now?
You know, I'm so into painting and I've been into painting my whole life. I never thought it would be my main career and it is. What I've been doing for the past several years has been doing commissions of pets and families. A lot of soap opera fans contact me through Facebook or online asking me to paint people or pets that are important to them. I love doing that. Apparently, I'm quite good at that.
There is an upcoming film called "Stick Figures," and apparently your art work will be displayed in the film. Explain how that works to us.
I don't know any more details than that. I really respect the actor/writer/producer [Matthew Montgomery]. The protagonist is an artist and they'll use my art for that.
Between "Y&R" and your painting, is there anything that has caught your attention? Are you interested in doing any Broadway plays or any theatre work?
I'm not interested in doing theatre at this point, but I'm very interested in night time and primetime series. I've had my first audition in 10 years for one last week. I'm more excited to do that now that I'm acting again.
Can you say which show you auditioned for?
It was for a new pilot coming out directed and produced by Michael Patrick King [NBC's in development "Mann's World"], who did "Sex and the City," and I'm not in it as far as I know [Laughs].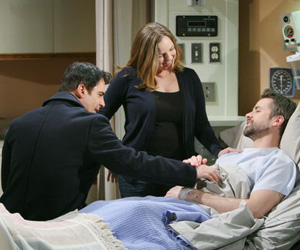 So Phillip, he's back on the show. His son, Phillip, I guess you want to say Jr., but they call him Chance, supposedly died a couple of months ago in a similar way that Phillip died, in the sense that he faked his death. Now the character is back again and giving his kidney to his half brother. What's going on there?
Genoa City can have some extreme dramatic moments. They knew that Chance wasn't really going to die when they wrote that he was dead. He went into the witness relocation program and now he's back. That's great, not only for me because I get to act with John Driscoll [who portrays Chance], but Tricia Cast [Nina] is just phenomenal. She's had so many emotional scenes this past year with both of her sons. She's just great.
How long is your character back in town for?
That's a good question. I believe they are going to use me more this year than they have in the subsequent years, but I have been back every couple of months since 2009. I'll probably be back more regularly this year.
If you weren't on "Y&R," could you see yourself on any other daytime show?
Yes, sure. I like the idea very much of me being able to paint for a living and act. I have time for both of those. I really like that.
Is there any other character in daytime that you could say you wish you were playing?
Who I think is so great is Sean [Kanan], who plays Deacon, he's just so good at what he's doing. I do several accents. I would love to do a dual role with one of my accents and play a heterosexual as well. As for me wanting to do somebody else's character, there is nobody I can think of right now.
You've been acting for a long time now. What can you say about your roles in such shows as "Murder, She Wrote" and "Melrose Place" or TV movies? How are they different from who you are currently playing on "Y&R?"
"Y&R," because it is ongoing, I can be more of myself there than I could be in "Murder, She Wrote" and "Matlock" and these other movies and TV that I've done. That's really fun that I can bring my organic self to this.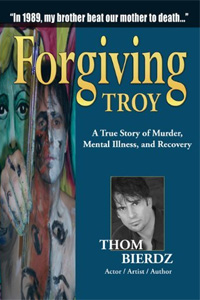 In 2009, you released your book "Forgiving Troy." The story is about your search for understanding the circumstances behind the tragic death of your mother. What can you share about your personal experiences during such tragedy and how you've been able to cope?
It is a story that I really felt that I had to share. It's extreme hardship and is inspirational as well. It is my family story. I get a lot of people taking it into their hearts. I found so many more people relate to this story than I thought. I thought people would see it from an entertainment perspective. I had no idea that so many people would relate to the characters.
When I read about your life history, it was very shocking to hear all of the things that have gone on in your life and how you've been able to progress to where you are today, knowing that all of that has happened in the past. Like you said, it is an inspirational story. I have a family member of mine who has a mental illness [bilpolar], and it just puts things more into perspective about the importance of family, love and life.
It is extreme and my brother is schizophrenic, paranoid schizophrenic, and so many more people than you think are in relation to that or have been. It is great for me to be able to share openly about it as does my incarcerated brother…he's very open about it. He's seeking to be the best that he can at this point and I'm helping him along and he's helping me along. We're brothers loving each other, despite him killing mom years ago and his illness and him being in prison. We're still brothers, we're still there for each other because that is what my mom would want. Plus, he's my brother. I'll be there for him forever. He is a very special guy to me. He is my baby brother. I know he is haunted. I can understand. I can empathize at some points. He calls me from prison a couple of times a week. I see him once a year, and he is watching "The Young and the Restless."
Interested in purchasing Thom's book? You can get an autographed copy through ThomBierdz.com or you can purchase through Amazon.com.
"The Young and the Restless" airs Weekdays on CBS. Anytime on CBS.com.
(Y&R scenic photography courtesy Howard Wise/JPI)
The Young and the Restless
Sean Kanan
Thom Bierdz
Tricia Cast
John Driscoll
Interviews