Copy/paste not allowed. Link only.
(SoapOperaNetwork.com) — Austin Peck's alleged off-screen antics may have helped sleaze things up behind the scenes at "As the World Turns," but it will be his on-screen performance that will do the same for "One Life to Live." On Friday, March 25, Peck made his porn-o-riffic "One Life" debut as Rick who, as SOAPnet.com noted earlier this year, "is a type that Llanview doesn't really have much of." If by that you mean a scumbag pornographic movie producer, then yes, Llanview hasn't had any of those in awhile. Then again, "One Life to Live" does seem to have a lot of pornlike characters in Llanview these day who are constantly displaying their scantily clad bodies all around town whether necessary or not, in what appears to be a not-so-subtle attempt to get a 'rise' out of a certain demographic.
In an interview with Soap Opera Digest after news of his joining 'OLTL" broke back in January, Peck revealed that "in a lot of ways, it's a compliment that they feel I can play this character. I don't know what kind of legs this character will have; hopefully, he'll have strong ones. It all depends on how they write him and what I do with what they give me. No matter what, I am going to do my best to bring it alive and have fun."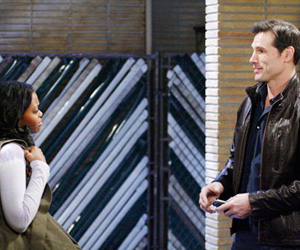 The revelation that Peck would be playing a porn producer took some "One Life" fans by surprise, considering they (falsely) assumed the SOAPnet.com quote to mean that he would be playing a gay character. That sentiment was echoed by Peck's co-star and real-life love interest Terri Conn (Aubrey), during an interview the couple did with Soap Opera Network earlier this month. "People think you're going to be a gay character," Conn told Peck. "Really? That would be cool," he replied. Of course, we can can now cross that off the list. "Yeah, cross that off the list," said Conn. "Well, you never know," she continued. "You never know," Peck said.
Although Peck's stint in Llanview will focus mainly on James Ford (Nic Robuck) and his former girlfriend (newcomer Nafessa Williams), it began, oddly enough, with Rex Balsom (John-Paul Lavoisier), who inadvertently stumbled onto the set while the filming of a scene in a porn film was commencing, as he was looking for proof at the Minuteman Motel that his own father, Clint Buchanan (Jerry verDorn), murdered Eddie Ford (John Wesley Shipp).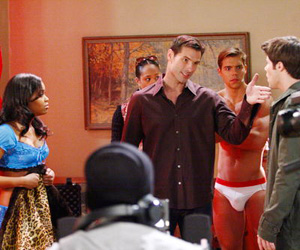 Julie Pinson co-starred with Peck in two daytime soaps, first in NBC's "Days of our Lives" and then again on CBS' "As The World Turns." In an interview with Soap Opera Network, at an event honoring Robert S. Woods (Bo Buchanan), Pinson was asked what acting jobs, if any, she might be interested in pursuing in the future. "I'll do anything but porn," she quickly responded. Of course, while she may be against it, that doesn't mean everyone is. "Who's doing porn?" the shocked actress asked after hearing one of her former co-stars was dabbling in the genre, if only for daytime TV. Learning it was Peck, Pinson broke out into hysterics and said "Oh that's right, I heard about that. That's funny. Well, good for him." The always amusing actress joked, "Do you think he really has to act the part or do you think he knows a little bit about it? Do you think he had to do research? I should call him and say 'hey, Austin, what kind of research did you have to do for this part?'"
During the week of March 28, look for Rick to set his sights on an unsuspecting Deanna, the new girl in town, and offer to make the teen rich and famous. Preying upon her naivety, he tries to persuade her to take a starring role in his next X-rated production. But will James give the smut peddler more than he bargained for when he learns what just what his old flame has been up to? Tune in to find out!
Photography courtesy George De Sota/JPI
One Life to Live
Days of our Lives
SOAPnet.com
As The World Turns
Austin Peck
Soap Opera Network
Soap Opera Digest
John-Paul Lavosier
Robert S. Woods
Nic Robuck
Jerry verDorn
John Wesley Shipp
As The World Turns
Days of our Lives
Nafessa Williams
Comings & Goings
Julie Pinson